Phyllis is one of eight TBMs building ten different tunnels to collectively deliver 26 miles of new tunnels under London for the Crossrail project.
Having finished her work after 17 months of digging, Phyllis will now be dismantled leaving just the front 'can' in situ.
Tunnelling on the Crossrail project has now passed the 13 mile mark, half way to the 26 mile total needed.
Phyllis' sister machine, Ada, is in the Holborn area and is due to complete tunnelling during the winter, while a further six machines will finish tunnelling next year. The final TBM, Ellie, will launch this winter.
During the coming weeks, Phyllis will be dismantled and her 130m-long trailer system will be removed from the tunnel via the recently completed Fisher Street shaft.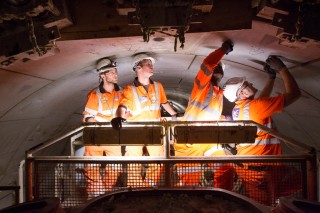 Crossrail programme director Andy Mitchell said: "Crossrail's construction continues to move ahead at a significant pace. Crossrail has not only completed the first Crossrail tunnel under London but has reached the half-way point for our tunnelling machines with a phenomenal 13 miles of train tunnels constructed to-date. A further six tunnelling machines are currently hard at work constructing over 100m of new tunnel each day with major tunnelling due to complete next year."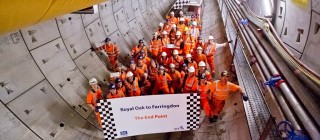 This week, the final pre-cast concrete rings are being cast at Crossrail's temporary concrete segment factory for the western tunnels at Old Oak Common. The rings are installed by the TBM as it excavates the earth and moves forward underground.
Crossrail remains on course to open on schedule in 2018.
Got a story? Email news@theconstructionindex.co.uk