The 77-metre high Potain MD560B M25 saddle-jib crane has been assembled with 32 tonnes of ballast. It is configured with two falls of rope to lift a maximum of 12.5 tonnes, or 7.0 tonnes at maximum radius of 70.0 metres.
A second 55-metre high crane,a flat-top Potain MDT368A-L16, is set to be erected later this week. This crane will be able to lift 6.8 tonnes at 50-metre maximum radius.
Both cranes are on hire from Radius NFT, a joint venture of Mike Fryer's Radius Crane Management, based in Northampton, and the Middle East Potain dealer, Nouman Fouad Trading of Abu Dhabi.
BAM Construction is main contractor for Two Chamberlain Square, managing a team of more than 200 construction workers. The two basement levels have already been created as part of the site enabling works and therefore the full frame of the new building will quickly become visible once the tower cranes are in place.
Two Chamberlain Square is the second building on the £500m Paradise Circus development. It is an eight-storey, 183,000 sq ft office building. Designed by Glenn Howells Architects, it has large open floorplates of approximately 24,000 sq ft as well as 16,000 sq ft of retail space at ground level.
As we reported last month, BAM has also now taken over construction of the 172,000 sq ft One Chamberlain Square building that is fully let to PwC and is due for hand-over to the firm next year. Carillion had been main contractor on this job but following its liquidation in January, BAM stepped in.

Rob Groves, regional director of Argent, development manager for Paradise, said: "The arrival of the two new tower cranes demonstrates in a very obvious way the gathering momentum around Paradise Birmingham. This is another major milestone as we move into an exciting phase of work over the next year. As well as the practical completion of our first two buildings, next year will see more of the public realm revealed for the benefit of everyone who lives in or visits the city."
BAM Construction regional director Rod Stiles said:  "We are already working hard to deliver Two Chamberlain Square and the two new tower cranes will enable us to accelerate construction over the next 18 months. This is a superb building in an exemplary scheme helping to transform the heart of Birmingham with a range of new facilities including retail and leisure as well as top-class office space."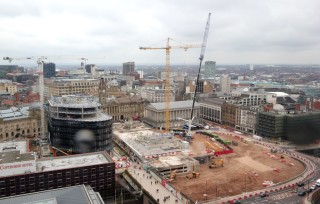 One and Two Chamberlain Square represent the first phase of Paradise Birmingham. Ten new buildings are planned in total. The Paradise redevelopment is being brought forward through Paradise Circus Limited Partnership (PCLP), a private-public joint venture with Birmingham City Council. The private sector funding is being managed by Hermes Investment Management which has partnered with Canada Pension Plan Investment Board (CPPIB) on the first phase of the development. Argent is the development manager.
Got a story? Email news@theconstructionindex.co.uk