Engineers researching ways to protect bridges against earthquakes believe that that they can solve two problems simultaneously by using old tyres to create flexible foundations that effectively absorb ground movement and leave the structure unaffected.
Structures such as integral abutment bridges (IABs) are easily weakened by ground movements that cause distortion and damage. This can happen even in areas not affected by earthquake activity. Daily and seasonal cycles of thermal expansion and contraction cause movement in the abutments with gradual settlement and consolidation of the backfill supporting them.
The gradual increase in earth pressure behind the abutments eventually causes dislocation at the interface between the abutment and the bridge deck. It's even worse in areas prone to seismic activity. Here, bridges can experience much larger ground movements and, while a bridge with elastomeric bearings and expansion joints can usually absorb differential movements of up to +/-600mm, an IAB will sustain serious damage from much smaller displacements.
A team led by Dr Stergios Mitoulis, lecturer in bridge engineering at the Department of Civil & Environmental Engineering at the University of Surrey, suggests that discarded tyres can be recycled to form what they call 'isolators', which can be used to double the resilience of these structures.
Mitoulis and his team – former colleagues at the University of Thessaloniki in Greece – have explored the use of what they call 'tyre-derived aggregates' (TDAs) in protecting against structural damage, particularly the effects of earthquakes. Using data from the 1976 earthquake at Friuli, north-east Italy, and an earthquake in Montenegro in 1979, the researchers created a 'loading scenario' or model for their calculations.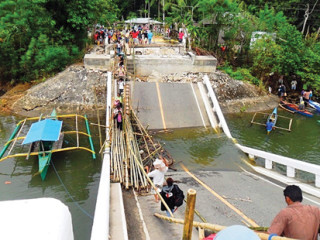 The solution proposed by Dr Mitoulis is to isolate the integral abutments from the backfill by packing a layer of TDAs - either in geotextile sacks or sandwiched between geogrids similar to those commonly used to reinforce retaining walls – behind the abutments.
Water can drain through the mass of tyre particles and the flexibility of the rubber aggregate provides freedom for the integral abutment to move without disturbing the earth. These sacks or geogrids would vary in size and weight according to the structure to be protected, and could be anchored to the abutment in a number of ways; for example, says Mitoulis, there could be anchor rods holding the TDA containers in place or permanent sheet metal formwork between the backfill and the TDAs.
The use of these TDA isolators could offer a low-cost alternative to the expensive option of building bridges with elastomeric bearings. TDAs also have several advantages over the alternative solution of using expanded polystyrene (EPS) 'heave' blocks.
EPS (also known as geofoam) blocks are commonly used for lightweight structural fill or to minimise settlement below highways, bridge approaches, embankments and other structures. And while they are often used to mitigate the effects of ground movement on integral abutment bridges, they have several shortcomings, according to Mitoulis.
He points out that, once compressed, EPS never springs back fully into shape and so is not a long-term answer and only delays the problem for up to 15 years. EPS also needs protecting from both human interference and pests as it is easily broken up and rats will build their nests in it.
"Bridges are important infrastructure assets that are costly to construct and maintain," explains Mitoulis. "Their maintenance is a major challenge in most developing countries and significant investment is required to ensure they remain safe and usable, especially in a disaster."

TDA isolators are suitable for both road and foot bridges and can be adapted to deal with any size or span of bridge, says Mitoulis. He says that once two figures are known – the pressure exerted by the backfill and the maximum displacement that needs to be absorbed – then the isolator can be designed to fit.
"The longer and more flexible the bridge, then the greater the displacement," he explains. "The aim is to minimise the interaction with the backfill so the pressure is taken by the isolator."
The use of old tyres to protect integral bridges has an attractive secondary benefit: it could help to dispose of some of the 50 million or so tyres discarded every year in the UK.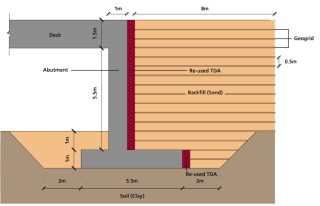 Most of these tyres used to go to landfill, but that was outlawed for whole tyres in 2006 and for shredded tyres three years later.
Other imaginative uses for old tyres have been proposed and the building and civil engineering industries have provided some alternatives. WRAP, the Waste & Resources Action Programme, has produced a quality protocol that says shredded tyres could be recovered and used in civil engineering, and sports, leisure and recreation applications.
Mitoulis was quick to take up the challenge. "We were looking for a readily available, cheap and effective material that would keep cool under pressure. That's when we thought about the possibility of recycling common tyres and putting to good use a material [that used to be] destined for landfill," he explains.
"We can use old tyres to effectively double the performance of conventional designs when movements due to earthquakes or temperature changes are simulated."
Mitoulis stresses that it will be at least three years before the method can be applied because further experiments and testing are required and the technique has so far only been tested on culverts. In order to meet the various certifications necessary, the material will have to be tested for factors such as fire resistance and whether its performance deteriorates with age.
The material cost of Mitoulis' design is difficult to gauge as TDA is not yet made in the commercial quantities that this application would require. Currently, tyres are shredded by small specialist companies supplying the contractors that install shock absorbent surfaces for applications such as playgrounds and sports tracks. For this research, though, the 60kg of tyre waste used in laboratory experiments only cost £50.
International bridge and civil structures designer Hewson Consulting Engineers has supported the research by working with Mitoulis to develop "multi-hazard models for highway and railway integral bridges". The company says the project has yielded "very worthwhile and timely research that will provide the opportunity for our bridge engineers to integrate some of the ideas into future designs for highway and railway bridges with integral abutments."
Turning old tyres into TDAs to protect bridges looks a more sustainable alternative for the UK than its present practice: exporting them to developing countries where they are burnt in waste-to-energy generators.
Got a story? Email news@theconstructionindex.co.uk