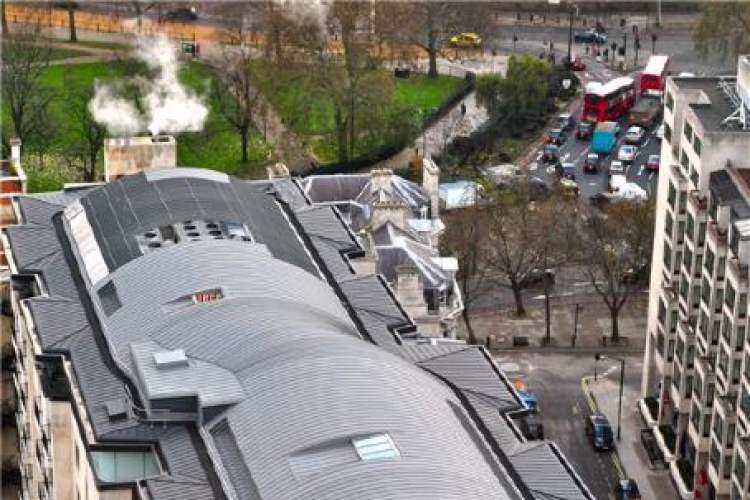 The stunning VM Zinc roof, installed by Roles Broderick Roofing, mirrors a hat with an overhanging brim and is insulated with Foamglas®. Foamglas®  cellular glass insulation was specified for its instant weatherproofing and resistance to the high levels of internal moisture generated from the spa itself.
Four Seasons Hotels, Inc. is an International five-star operator of luxury hotels and resorts. The flagship Four Seasons Hotel in Park Lane has had a flat roof since it was built in the 1960's. For many years the building and its staid flat roof have been considered inferior given its illustrious location in amongst London's iconic skyline. Therefore the addition of a new spa to the hotel provided an opportunity to construct a new, dynamic curved envelope over the existing flat roof. 
As such, roofing contractor Roles Broderick Roofing, in partnership with envelope contractor Lakesmere Ltd., confirmed that the specified Foamglas®  cellular glass insulation would work in conjunction with the new VM Zinc roof to enable a perfectly formed, warm roof build up. Effective, natural ventilation was essential due to the consistently high humidity that would be generated by the environment within the spa facility. 
Since Foamglas®  is vapour tight, ventilation can only occur through physical openings, as opposed to passing through the fabric of the building materials. If moisture occurs inside a building's fabric, degradation will arise and eventually mould, which leads to a deterioration of the buildings fabric and ultimately its functional performance. By using Foamglas®  in a non-vented compact construction beneath the  waterproofing layers the air and moisture can only go where it is directed - creating a high performance warm roof solution.

Richard O'Connor, Contracts Director at Roles Broderick commented: "Being located in such a prominent location, the importance of achieving a highly crafted roof was paramount. Foamglas®  was specified at an early stage in the specification process to insulate the spa facility as it is totally impervious to water and so provided an element of waterproofing as the building work progressed.'
Foamglas®  is a high performance insulation that has outstanding physical qualities. This insulation utilises 68% recycled glass, primarily from car windscreens and waste from the glazing industry, combined with silica sand and a small element of carbon, meaning it's environmental impact is considerably lower than many alternatives.  It has a Global Warming Potential of one and when a building reaches the end of its life; cellular glass insulation can be re-used or fully recycled into new insulation slabs.
"For a spa facility it was vital that we created an environment that would be well insulated and ventilated. Foamglas®  provided the ideal solution, not only because of its benefits during installation, but also its excellent environmental credentials and long term thermal guarantee," commented Richard.
Got a story? Email news@theconstructionindex.co.uk