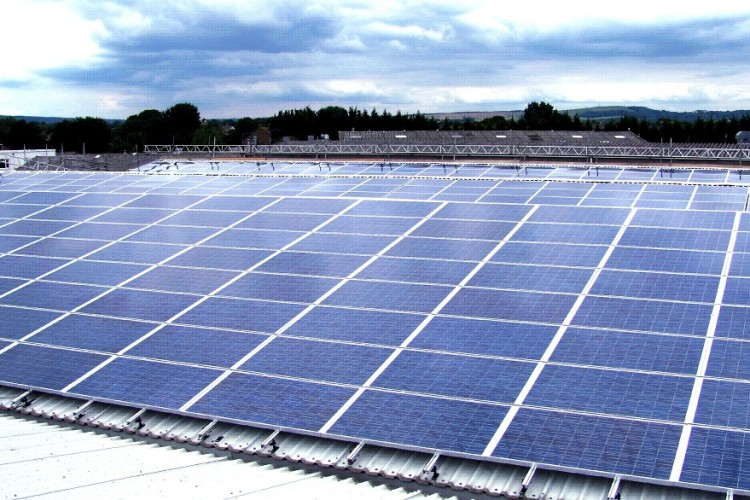 "At Covers we are committed to sustainability which is why we are adopting solar PV from AZUR SOLAR across the company," explained Rupert Green, the Director in charge of Sustainability at Covers.  "We have started reaping the benefit of reduced energy costs within our branches and have gone one stage further by marketing 'AZUR SOLAR Power Kits' to our customers through our newly remodelled Eco Centre. Working with our installation partners we have completed seven domestic installations, with many others in the pipeline."
Solar PV installations have been completed at an initial six Covers locations and these are now being used as reference sites.  They comprise both the Covers Home Ideas store and the Covers Trade Centre at Chichester and the depots at Aldershot, Bognor, Gosport, and Portsmouth.  So far 2055 panels and 26 inverters, delivering a total of 473 kWp have been commissioned. Covers plan to install Solar PV on two more depots later in the year.
Covers selected AZUR SOLAR's unique AZUR 2P self cleaning, self healing coated panels for its coastal branches as they not only help prevent sea salt and other particles covering the panels but they also produce up to 15% more lifetime power.
The majority of electricity Covers requires is for lighting, business systems and powered saws, however surplus electricity generated by the rooftop solar systems will be fed back into the National Grid, delivering a further financial return on its investment.

Covers is leading the way in reducing CO2 emissions across Hampshire & Sussex with the saving from solar PV estimated at 227 T CO2 (25% of Covers' current emissions from electricity). Other aspects of Covers' Eco policy include moving to higher efficiency vehicles, replacing lighting and IT equipment with much higher efficiency solutions and encouraging cycling to work with interest free loans.  It is also changing its waste management system to maximise recycling.
Rupert Green continued: "We are delighted to have chosen AZUR SOLAR as our partner to develop Covers' Solar PV potential both as an investment on our branch roofs and in helping us to promote the benefits to our customer base.  As well as being a good financial investment for us, the estimated saving of 227 tonnes of CO2 each year is important in helping us play our part in mitigating climate change.  Our customers also recognise the benefits solar PV delivers and in-branch interest is growing by the week."
In addition to Covers, recent prestigious AZUR SOLAR projects have included the UK's largest self-funded rooftop installation for The Body Shop International in West Sussex; a massive distribution centre for Staples in Northamptonshire; plus a reference site on its own roof, owned by SEGRO / Slough Estates. 
"The economic and environmental benefits of solar PV are now being appreciated, but key factors in our winning Covers and other contracts were our exacting standards and our ability to actively manage every aspect of the solar supply chain from initial design and manufacture, through installation to after sales service," explained Robert Markus Feldmann, Managing Director for AZUR SOLAR Systems Ltd.  "Recent Government Feed-In Tariff changes mean projects over 50 kWp are less attractive, however improved economies of scale and reduced overall solution costs continue to encourage businesses and homeowners throughout the country to install renewable solar PV energy solutions."
Got a story? Email news@theconstructionindex.co.uk