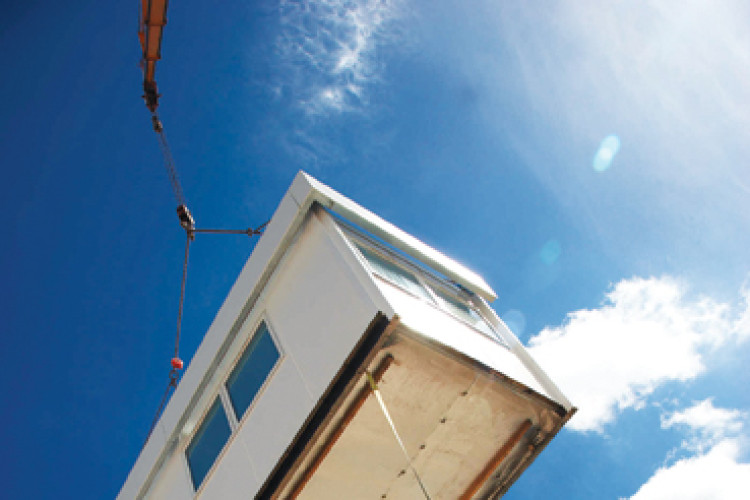 Piggott School is a new academy in Reading which specialises in modern languages and humanities. To meet increasing demand for places, the school needed a dedicated sixth form centre which would free up teaching accommodation elsewhere on the school site.
And it wanted the new centre built as quickly as possible.
The school was drawn to the idea of offsite construction, specifically
recycled steel modules from Shepherd subsidiary Foremans, which would enable it to meet both cost constraints and the tight programme.
Nadine Doble, business manager at Piggott School, says: "Time and cost were the key factors in us choosing a recycled modular solution. We were looking at traditional site-based construction but would have had to wait several years for the funds to be available, and the construction phase would have taken longer too."
Foremans designed the two-storey sixth form building from 48 pre-owned steel modules, which were refurbished the firm's production centre in East Yorkshire and reconfigured to the school's specific requirements. The project cost was £1m.
The use of a recycled modular building solution typically reduces programme times by around 70%, according to Foremans, compared to site-based construction or new manufacture.
Andrew Noble, Foremans' project manager for the Piggott School project, adds: "Good logistics planning and detailed project management are also important when a programme is really tight. We have a long established and loyal supply chain so our suppliers and specialist subcontractors are very accommodating to help us meet the most challenging lead times."
Foremans carried out a thorough assessment of the project at the outset and planned the programme meticulously, says Noble. "This included close co-ordination and management of all trades on site in both Yorkshire and Reading, a detailed traffic management plan for vehicle movements to carefully control vehicles arriving on site, and a full site survey to avoid any unforeseen issues," he explains.
To minimise disruption to teaching, many schools prefer to install buildings during holidays. But on this project, the programme demanded delivery in term time, which made the project management even more complex.
The modules could only arrive on site at certain times, maximising car parking and avoiding the busiest periods in the school day – between 8am and 9am, 12pm and 1pm, and 3pm and 4pm.
"To achieve this, we had to be very strict with the timetable for vehicle movements for the module delivery phase," says Noble. "Only one vehicle could be on site at any time so we used an off-site holding area and banked the lorries in. We also had separate unloading and cranage areas."
Foremans maximised off-site working on the project to further reduce disruption to teaching. Around 70% of the fitting out was completed at Foremans' production centre. This included installation of internal plasterboard, flooring, stairs, windows, doors, plumbing and electrics. The over cladding was also completed off site.

The building was configured to accommodate eight dedicated classrooms for the sixth form, office accommodation, meeting room, social space for students, kitchen and a quiet study area with the potential to expand the number of PC stations from 75 to 115 to meet the academy's future needs.  A folding partition divides up two classrooms which can then be opened up to create a single flexible space for exam periods.
Externally, the scheme features timber cladding, brise soleil, and a canopy over the entrance.
The  building was handed over just six weeks after the first module arrived on site.
Project details
Client:  Diocese of Oxford
Principal contractor:  Foremans Relocatable Building Systems
Groundworks:  Redlime Ltd
Electrical engineers:  Richardsons Electrical
Mechanical engineers:  Neville Tucker Engineering
Brise Soleil:  Louvresol      
Glazing:  MBE Glazing
Lifts:  Invalifts
Glazed partitions:  Premier Solutions
Got a story? Email news@theconstructionindex.co.uk