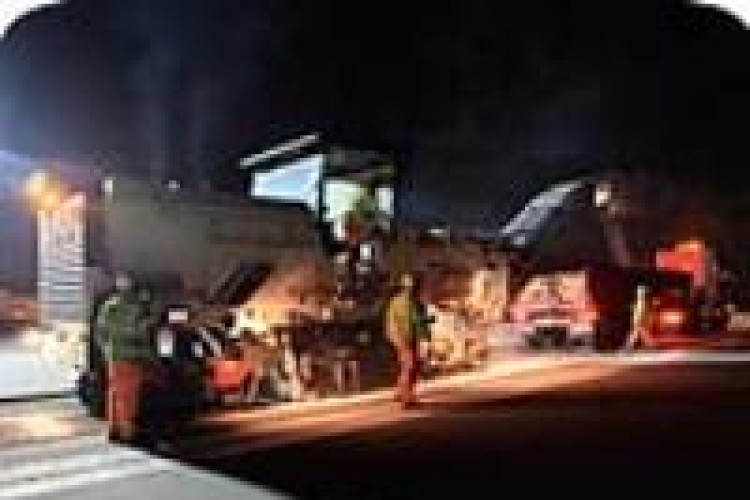 The £18.6m contract involved renewing the ground lighting on and around the 3km-long, 45m wide runway and resurfacing it in the process.
"The project driver was the wiring and cabling around the runway, which was getting towards the end of its design life," explained project manager Paul Hancock. "One of the knock-on effects is that we had to cut up the asphalt surface and re-lay it."
The project involved installing ducting around the edge of the runway and laying new lighting cabling in it. From these ducts the team then saw-cut channels 120mm deep to the runway's centreline where they installed the lighting that helps guide aircraft.
Cutting into the runway meant that resurfacing also had to be undertaken. "We planed off 50mm of material and then replaced that," said Hancock. "One of the main innovations is that we're using a new French product called BBA (Béton Bitumineux Aéronautique). It's widely used abroad, but Manchester is the first mainland UK airport to use it.
"Whereas with new runway asphalt you normally have to cut grooves into it to help water drain off and improve friction, BBA is self-draining and has instant friction characteristics when it's laid." This delivered a saving of several hundred thousand pounds in grooving costs alone, according to paving subcontractor Colas.

BBA has aroused considerable interest: "Lots of other UK airports have been here, looking at it," said Hancock. Some 20,000 tonnes of material were used in the resurfacing programme.
Work began in January, was carried out during night closures, ands completes next month.
First UK use of BBA was at Sumburgh airport in the Shetland Islands in 2006 by Colas. BBA has subsequently been used for the resurfacing of Tiree airport in the Inner Hebrides, Ronaldsway airport on the Isle of Man and Jersey airport.
BBA is also now beinglaid by Colas at London Southend airport.
Marshall asphalt is most commonly used for surfacing UK airfield runways for the past 40 years but BBA asphalt has been found to offer greater rates of production and laying, which is a major benefit when working in limited possession windows between flights. It is also considered easier to mix as it has fewer aggregate fractions – a maximum of three in comparison to Marshall Asphalt's seven or eight – and is easier to lay because it is more workable in use.
Got a story? Email news@theconstructionindex.co.uk