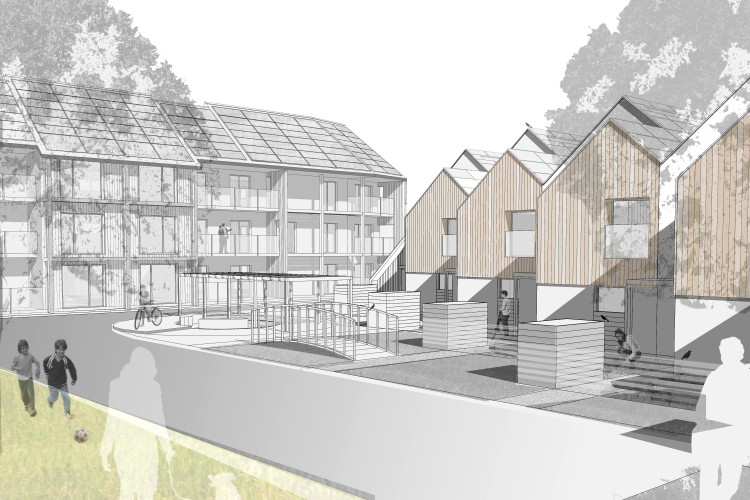 Working for Four Housing Group in partnership with South Tyneside Council, the company, part of the Galliford Try Group, will create 21 carbon negative homes. Comprising nine three-bedroom houses and 12 two-bedroom apartments, the "Reed Street Carbon Negative Community Village" will be the first in the country to exceed Level 6 of the Code for Sustainable Homes.
Under the current definition of zero carbon, the Reed Street development will exceed compliance standards by around 25 per cent. However once the recently amended 2016 definition comes into force, which removes the inclusion of unregulated carbon, compliance is expected to be exceeded by around 75 per cent. This means the homes will, over their lifetime, not only offset their own carbon emissions, but also contribute to offsetting the emissions of existing homes and will require little to no utility bills for its residents.
"We are thrilled to have been awarded this flagship scheme, which demonstrates innovative sustainable construction methods and which will set a new benchmark for sustainable affordable housing in the future," said Galliford Try Partnerships UK Managing Director, Stuart Gibbons.
"It will not only allow Four Housing Group to significantly reduce its carbon footprint but also that of its existing housing stock, since every five of these houses built will offset enough carbon to make a standard 2010 Part L House Zero Carbon."
The Reed Street homes will be constructed using renewable materials, to have a minimal environmental impact in both the construction and supply chain processes, such as cedar shingles and recycled paper insulation.

Further environmental features include rain water harvesting; interactive smart metering to record and monitor energy and water usage; and a Mechanical Heat Recovery System in each home, which will recover 93 per cent of the heat usually lost through the roof while supplying filtered fresh air at a constant, comfortable temperature. The homes have also been designed to be 75 per more air-tight, significantly reducing drafts and heat loss.
Additionally, the development will generate significant revenue returns thanks to a variety of government energy-efficiency incentives. A small community heating plant-room will house a state-of-the-art biomass boiler, providing all the heating and hot water needs for all of the homes. Under the Government's Renewable Heat Incentive (RHI), the carbon zero boiler will return in excess of £7,000 per year for 15 years – far exceeding its annual maintenance costs.
The 85 Kilowatt peak photo voltaic array solar panels are capable of generating enough clean electricity for all of the homes and produce a generous surplus, which will be exported back to the National Grid generating an estimated £1100 per year. This is on top of the £22,686.50 per year expected to be returned through the Government's Feed-in-Tariff Scheme (FITS) over the next 24 years.
Sunderland-based architects Fitz Architects and 4 Housing Group working with Groundwork South Tyneside and Newcastle designed the scheme with early contractor involvement from Galliford Try Partnerships, including its in-house technical design team, to ensure the design's thermal performance would be optimised. Planning in consultation with the authorities was crucial given the physical characteristics and unique specifications of such energy-efficient homes, such as roof design, aspect and day-lighting.
Work on the Reed Street project has commenced with completion expected March 2012.
Got a story? Email news@theconstructionindex.co.uk