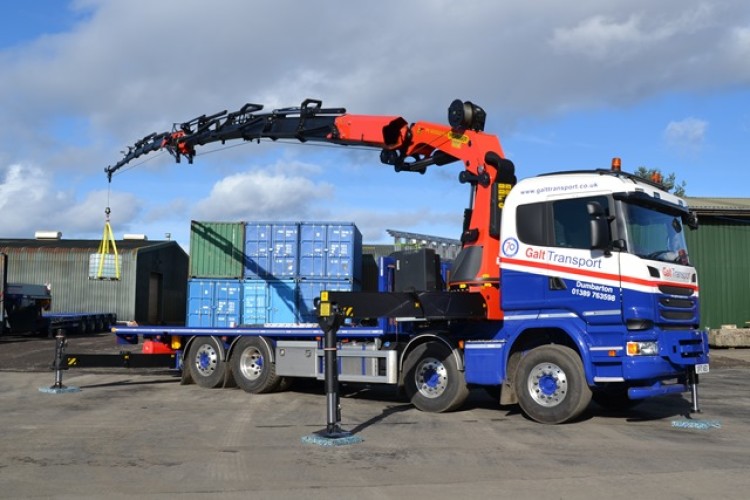 The new vehicles are two articulated Scania R490 trucks and two rigid R450s. All four are equipped with Palfinger cranes. 
The two 8x2 R450 rigid vehicles have PK65002-E cranes with a hoist attachment. They can lift a maximum load of 3.2 tonnes out to a distance of 16.6m but with the addition of a fly job can reach out to 28 metres while lifting 800kg.
Operations director Andrew Galt said: "These new eight wheelers combine durability with payload capacity.  The fly jib not only gives the vehicle a greater working radius but also gives the crane further articulation allowing items to be lifted on to roofs more easily.  The hoist will allow items to be lowered straight down which is also an advantage of this crane specification."
The units have an additional fifth stabiliser leg installed at the front of the vehicle, giving greater support to the crane when lifting over the front of the cab when the fly jib is in operation.  These new additions bring the total number of vehicle-mounted cranes in Galt's fleet to 28 from an overall fleet of 60 trucks and more than 100 trailers. 
Andrew Galt added: "We're always looking for ways to extend the capabilities of our fleet.  These new additions are now our longest reach cranes, which extends our offering of flexible loading and delivery options to our customers."
The R490s are fitted with Palfinger PK 78000-D cranes.
The units were supplied by Scania Truck & Bus Renfrew.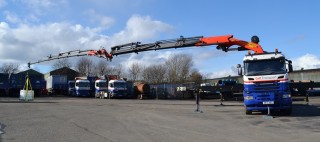 Got a story? Email news@theconstructionindex.co.uk