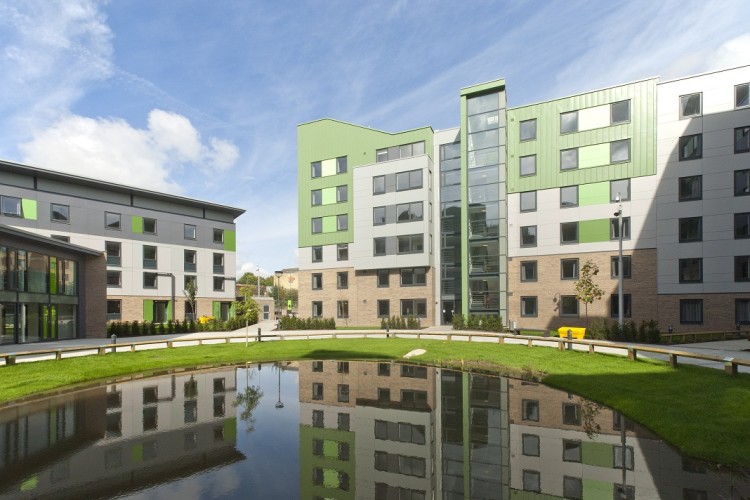 The building, built for Listerhills Limited, a joint venture between the Hayaat Group and Welbeck Land, managed by Mi7, is The Green at Bradford University; it is now the most environmentally-friendly student living accommodation in the UK.  It is one of only 15 BREEAM 'Outstanding' buildings worldwide and is the first multi-residential building in the UK to achieve this 'gold' standard.
The £30.4million student accommodation building, containing 1.026 bedrooms across six and seven storey apartment and four storey townhouses, was built by GB Building Solutions in partnership with Balfour Beatty Engineering Services in just 84 weeks, finishing on schedule despite being built through the worst winter on record. 
The building materials and methods have been of the very highest environmental standard to enable the rating to be achieved.  GB used sustainable construction methods throughout including recycled aggregates.  The buildings are made of pre-fabricated open panel timber wall frames from a sustainable source to deliver a highly efficient building envelope which minimises the need for space heating.  Bathroom 'pods' were sourced locally and installed using a crane as completed units to maximise productivity and reduce waste.
Key features include a biodiversity pool which reuses rainwater, while hot water will be supplied via solar thermal collectors, which will be supplemented by a combined heat and power plant.  The building also includes a wide range of internal sustainable features that will teach students how to live in an environmentally-sustainable way and the university will operate a financial rebate system for student residents who are most careful with their energy usage.


The Green is the initial phase of the Bradford Learning Quarter, a key regeneration area of Bradford city centre. Mi7 has already made progress on the next phase within the Learning Quarter which is set to deliver further student accommodation and also attract occupiers from the retail, health, fitness and private nursery sector.
The combined investment in The Green and the Listerhills Triangle is set to exceed £100m and will transform an area much in need of regeneration, as well as deliver numerous economic benefits in the local area.
Martin Smout, chairman and chief executive of GB Building Solutions says, "This has been a ground breaking scheme that has resulted in significant positive learning.  While everyone involved in the student village had experience of working on environmentally sustainable buildings prior to this one, The Green reached new levels, where every aspect of the design and build was maximised to have minimum impact on the environment both during construction and during the life of the building.  GB has definitely gained learning on this scheme that will be taken forwards to all other projects on which we work."
Got a story? Email news@theconstructionindex.co.uk