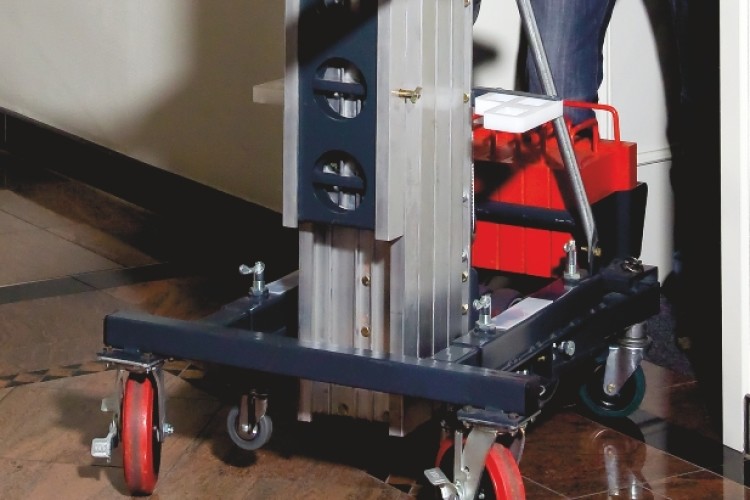 The Wienold Lifte is a counterbalance lift that allows for operation flush to walls. According to APS, this makes it not only ideal for glass installation but also unlike any existing product on the market.
Compact and manoeuvrable, the Wienold Lifte is designed to improve productivity and efficiency for glaziers and in a wide range of other materials lifting applications.
German manufacturer Norbert Wienold GmbH created the products by modifying and enhancing the familiar Genie Super lift, so the Wienold machines are fully compatible with Genie attachments. Wienold has replaced the forward-facing stabilisers on the Genie Super with a counterbalance system, allowing for much closer positioning against walls.
APS sales director Lee Louder said: "Wienold Lifte represents a step change in manually operated materials lifts. This is a class-leading product that can deliver real time-saving and efficiency benefits for the glass installation industry and other working in confined spaces."
APS is already an official Genie dealer for the Super lift range, so it can provide expert technical support.  It is also the exclusive UK distributor for Wienold Lifte glass and materials lifts, with an inventory of spare parts for product support.
The Wienold Lifte product line consists of two manually operated material lifts specially designed for glass handling in the construction and industrial glazing markets: the Universal and the Premium.
The Wienold Lift Universal (WLU) uses one chassis and four outrigger sets to create four different models. Lifting heights of 3.5m, 5m and 6.5 m are available, all with a 250kg lift capacity. Large, heavy duty castors make the unit highly manoeuvrable, even on rougher terrain; and the stowed width of 500mm allows access through standard internal doorways.

The Wienold Lifte Universal can work close against walls
The Premium model's shorter stowed height of 1.68m means it can be transported upright in most high-roof panel vans. The Premium also offers a greater capacity of 360–400kg and working heights from 1.7m to 5.15m.
The Wienold Lifte product was officially launched at Vertikal Days 2012, the trade show for the cranes, access and lifting industry, taking place at Haydock Park in Lancashire this week.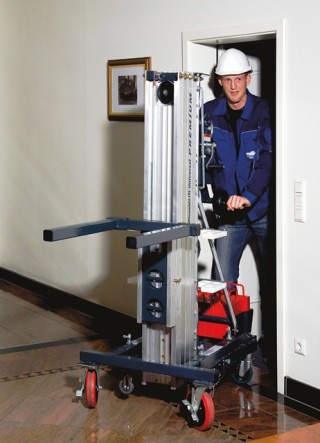 The Wienold Lifte Premium fits easily through interior doors
Got a story? Email news@theconstructionindex.co.uk