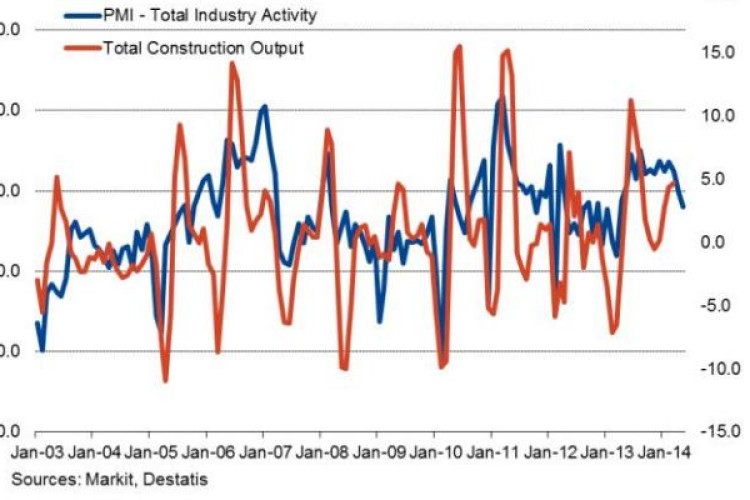 New orders also declined further, but companies nevertheless increased their payroll numbers. Meanwhile, input prices increased at the slowest pace since January.
The seasonally adjusted Purchasing Managers' Index (PMI)  - which is based on a single question asking respondents to report on the actual change in their total construction activity compared to one month ago – falling from 49.7 in April to 48.1. The latest index reading was the lowest in 14 months.
The drop in the headline index reflected a steep decline in civil engineering activity, with the pace of contraction accelerating to the sharpest in over one year. The civil engineering sub-sector was again the worst-performing out of the three broad categories monitored by the survey. Meanwhile, work on residential building projects also declined at a faster pace, while commercial activity increased for a thirteenth month in a row, with the pace of expansion up slightly since April.

In line with the trend for activity, new orders declined further in May, extending the current sequence of contraction to 26 months. However, the rate at which order intakes fell eased since April. With demand weakening, German constructors lowered their purchasing activity further during May. The rate of decline eased fractionally since the previous month.
Despite weak trends for activity and new orders, construction companies in Germany hired additional workers in May, stretching the current sequence of employment growth to 14 months. Anecdotal evidence suggested that some survey respondents attributed higher staffing levels to the processing of backlogs.
Markit economist Oliver Kolodseike said: "The downturn in Germany's construction sector accelerated in May, with the headline PMI falling to a 14-month low. The combination of declining construction activity, falling inflows of new orders and negative expectations with regards to the one-year outlook gives a cocktail with a risk for headache, especially if the sector remains in contraction territory in the coming months. The only positives from this month' s data are the resilience of the labour market to weakening demand and a slight rise in commercial activity."
Got a story? Email news@theconstructionindex.co.uk