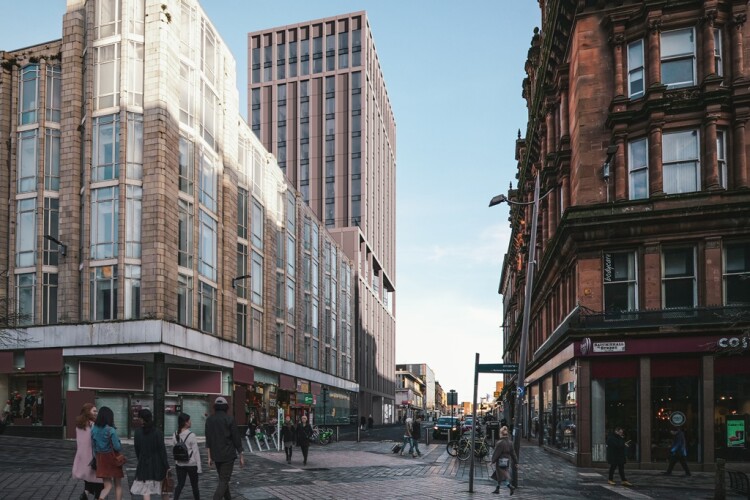 The building, designed by Haus Collective for PMI Developments and Peveril Securities, will change the city's skyline if built.
The 161-unit aparthotel will replace an unoccupied flat-roofed concrete building on the corner of Cambridge Street and Renfrew Street in Glasgow city centre.
The façade has been designed to complement neighbouring with textured stone finish for the main architectural elements and smooth stone finish panels for the secondary areas.
PMI Developments director Nigel Jones said: "This development will bring much-needed investment to the Sauchiehall Street area. We have had a positive working relationship with Glasgow City Council, who have been proactive throughout the planning process."
Peveril Securities director Chris Kirkland said, "This aparthotel will bolster Glasgow's tourism, providing additional high-quality accommodation and will attract more visitors to this premier shopping area."
Haus co-founder Murray Henderson said: "Our commitment to excellence and contemporary design is evident in this aparthotel, which has been recognised by planners for its 'bold, modern and refined architectural response' in a previously overlooked area. The positive reception from Glasgow City Council's planning committee is a testament to our team's dedication and expertise. Working with PMI Developments and Peveril Securities has been a pleasure, and we look forward to bringing this project to life."
Got a story? Email news@theconstructionindex.co.uk