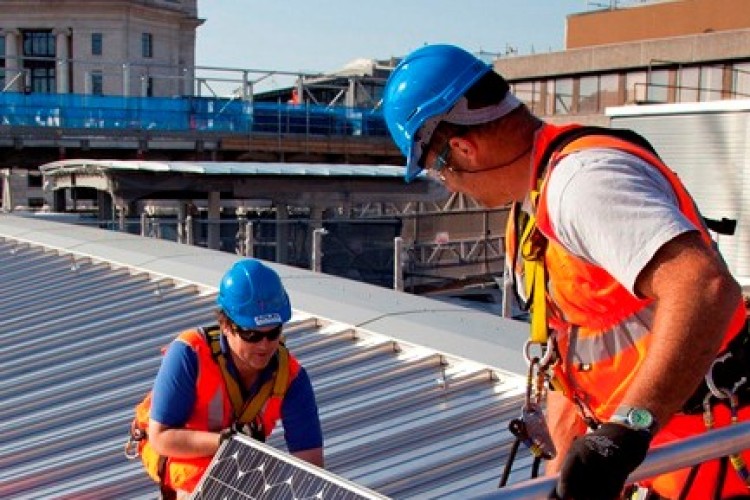 Balfour Beatty is rebuilding the station on top of Blackfriars rail bridge for Network Rail to provide more space for passengers and longer, more frequent trains.
The new station roof above the Victorian bridge will have 4,400 solar panels, generating up to 50% of the station's energy needs.
The solar panels, manufactured by Panasonic and installed by Solarcentury, cover an area of 6,000 m2, making Blackfriars the largest solar bridge in the world. The panels are expected to generate 900,000 kWh of electricity every year.
Network Rail senior programme manager for Blackfriars, Paul Byrne, said: "We've rebuilt Blackfriars on a 125 year old rail bridge, creating a 21st century, solar-powered station on Victorian foundations. Blackfriars' iconic location spanning the River Thames makes it a showcase for the potential of solar power, and an important benchmark for Network Rail as we look to make best use of sustainable technology on the rail network.
"Blackfriars will become fully operational for passengers this month, with two new entrances, four new platforms and a new London Underground station in use. We'll complete work on the bridge, including the installation of solar panels, later in the year."

Solarcentury CEO Frans van den Heuvel said: "Blackfriars will be one of the world's great solar power installations. Architecturally challenging, the project demonstrates just what is possible with this versatile technology in dense urban areas. We've been working amongst one of the most complex build programmes in the country, at height, over water and live train lines. It's a great feeling to be half way there."
Over the past four years, Blackfriars station has been rebuilt on top of a Victorian rail bridge. The bridge was stripped to its foundations and reconstructed wider and stronger to house platforms, a 250m-long roof and the world's largest bridge-based solar array. The work forms part of a wider upgrade of the Thameslink route, running from Bedford to Brighton through central London.
For a full report of the Blackfriars project see http://www.theconstructionindex.co.uk/news/view/the-rebuilding-of-blackfriars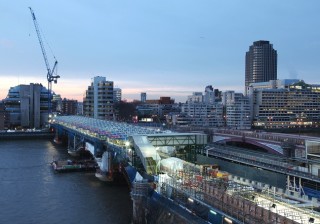 Got a story? Email news@theconstructionindex.co.uk