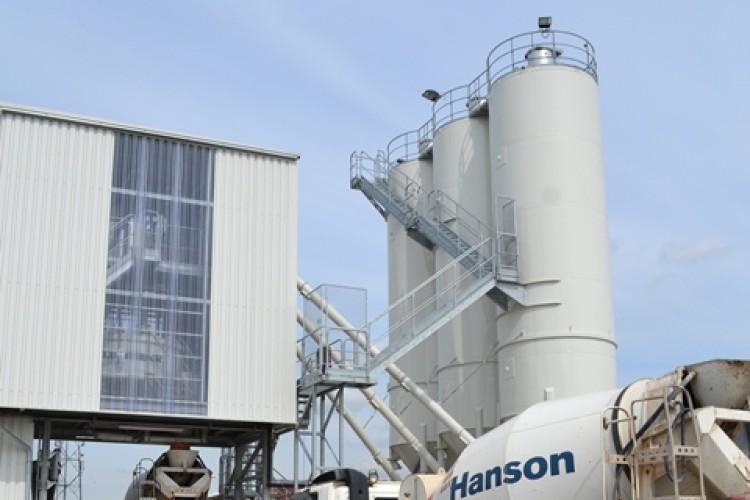 The new Glasgow central plant in Jessie Street, Polmadie, replaces the company's Shawfield facility at Rutherglen, which closed in 2011 when the land was compulsorily purchased as part of the Clyde Gateway redevelopment project. The relatively new Shawfield batching equipment – which supplied specialist concrete to the National Indoor Sports Arena and the Sir Chris Hoy Velodrome – has been moved to the refurbished Drumchapel site to replace a 40-year-old plant.
The Jessie Street site can produce 72 cubic metres of concrete an hour and has five aggregate bins and three 100-tonne storage silos for cement and Regen (ground granulated blastfurnace slag), which reduces embodied CO2 levels in the final concrete mix. The cement is supplied via Hanson's rail-linked depot in Bellshill, Glasgow, and Regen is delivered to the plant from the company's facility at King George V dock on the Clyde.
Both plants provide consistent product and flexibility in production and mix design; from structural light-weight concrete to recycled, impermeable or high early-strength concrete, Hanson said.

At Jessie Street a water harvesting system has been installed to reuse rainwater that falls on the site buildings. In addition, a water reclaimer allows returned materials and wash-out from trucks to be separated. The solids – mainly sand and aggregate – go back into stock for re-use and the water is filtered and pumped into the supply tanks. Dirty water washed from the yard is also recycled after collection in a settlement tank.
Willie Heggie, area general manager in Scotland for Hanson Concrete, said: "There's a lot of development work going on in Glasgow and these two plants put us in a great position to benefit.
"They are well located for supplying construction projects across the city and offer a number of environmental and safety features such as a one-way traffic system for both material delivery and mixer trucks. They provide an optimum working environment for our staff, drivers and contractors and highlight our commitment to sustainability in their layout, design and operation."
Got a story? Email news@theconstructionindex.co.uk