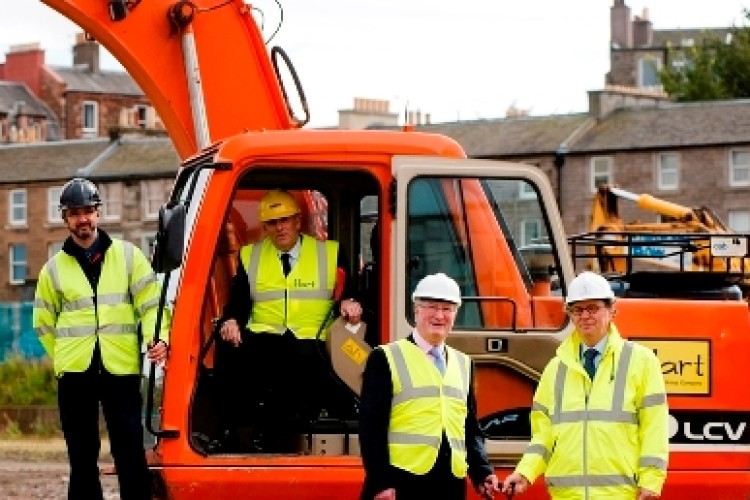 The development of 111 homes at Ocean Drive East, Western Harbour, Newhaven will be a mix of social rent and mid-market rent properties.
Work is due to take around two years, with a projected completion date of late summer 2013.
Hart business development director Robert Kerr said: ""This development will not only provide a secure and sustainable environment but will also enable Hart to maintain current employment and training opportunities over the lifetime of the construction period."
PoLHA chief executive Keith Anderson said: "This is a major development for the association and for the Waterfront as a whole. Through an effective partnership process, we now have a very exciting development to offer the people of Edinburgh. T here is an immediate pressing and ever-increasing need for affordable housing in Edinburgh. There is also a need to continue developing and regenerating the Waterfront community.

The development will have 58 properties let as social rent, with the remaining 53 homes available for mid-market rent.
Mr Anderson added: "As well as traditional social housing, there is a growing group of people who fall into the camp who require 'mid-market' rents, those who cannot afford full private market rents but may not be eligible for social housing. This is our first development of mid-market rent properties. It is important we create mixed communities and are happy we are offering an almost 50-50 split at this development. A mix of affordable housing types is very important."
The development will incorporate environmentally efficient features. Top floor flats will have solar water heating panels on the roof which will be linked to system boilers reducing the water heating energy requirements for these properties. Whole house and assisted ventilation systems will be installed in all flats reducing energy use and improving air quality and there will be high levels of insulation will be used throughout.
Got a story? Email news@theconstructionindex.co.uk