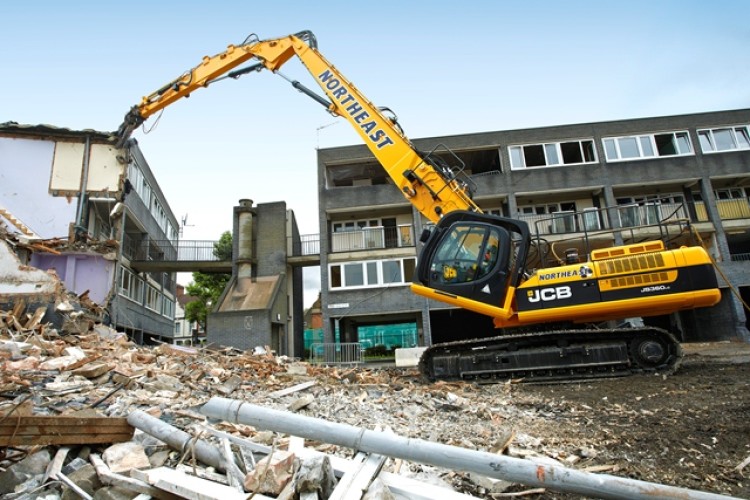 The standard JCB JS360XD has been adapted by Ipswich-based Kocurek, which supplied a modular boom configuration, tilting cab and full demolition protection, making it a JS360 XD HRD.
With the Kocurek modular joint design, operators can select the optimum boom configuration for each demolition task, increasing utilisation.
It can work with either a 21m, three-piece high reach demolition rig or with a digging rig for lower level or heavy duty operations.
The JS360XD HRD is the first JCB high reach machine in the Northeast fleet, but it does have several other JCB demolition excavators, including three JS220XD models and one JS330XD that have been purchased in the last four years.
The new machine can power attachments with up to 2.5t capacity and claims unrivalled stability in its weight class.

On delivery, the machine went straight to work on a 10-week demolition project in East London where it is dismantling three residential tower blocks in Walthamstow.
Northeast Demolition director Shaun Harvey said: "Our first impressions are excellent. It is a universal machine on which everything has been very well thought out. It is great to drive for the operator, extremely powerful and most of all the stability is fantastic. We have competitive models which can rock about at full stretch but the JCB does not move an inch.
"The modular boom gives us a versatile machine that will never be off duty. Whereas some of our machines from other manufacturers spend time in the yard when we don't have high reach projects on – this one will simply switch to the digging boom and provide us with a high performance conventional excavator for groundwork or foundation jobs."
The high-reach boom can be hydraulically disconnected into a docking cradle once the high level work is complete. The specially adapted JS360 XD base machine can then pick up the digging boom which can be locked into the straight boom position for medium height demolition with a heavy duty attachment, or operated conventionally for working at ground level and below.
Got a story? Email news@theconstructionindex.co.uk