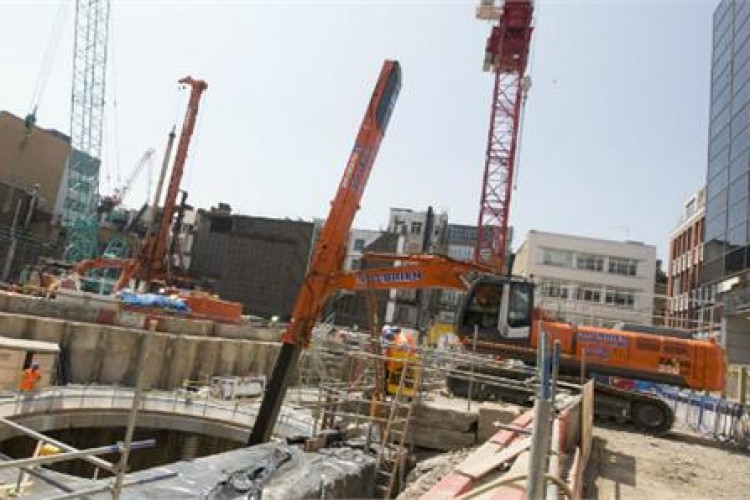 The ZX350LC-3 and ZX350LC-5 were contracted by Costain Skanska Joint Venture (CSJV) from M O'Brien Plant Hire to work at the new Bond Street Crossrail station in central London. Crossrail involves the construction of a new railway across the city, which will connect 37 stations including Heathrow Airport and Maidenhead in the west with Canary Wharf, Shenfield and Abbey Wood in the east.
The two Zaxis excavators were required to complete excavation work on two shafts, five storeys below ground, leading down to the level of the new train platforms. This work was necessary to prepare for the arrival of tunnel boring machines in late 2012.
Between March and June 2012, the ZX350LC-3 – fitted with a 25-metre arm and 1.2-cubic-metre bucket – worked 24-hour shifts, seven days a week, removing material from the first shaft. It loaded a six-tonne dumper, which transported the materials to an on-site stockpile. The ZX350LC-5, the first of its kind in Europe, arrived in July 2012 to start work on the site's second shaft before moving onto another Crossrail site to carry out similar duties.
Completing the work on schedule is extremely important to CSJV. It conducted a test to compare the performance of the Hitachi clamshell telescopic excavators against the traditional method of skips and a crane. Costain Works Manager Martyn Redsell explains: "The ZX350LC-3 excavator was three times quicker than using an eight-cubic-metre skip. The skips removed 13 cubic metres per hour compared to 39 cubic metres per hour removed by the Hitachi. By mid-May, we were four days ahead of schedule."

The two Hitachi models have further benefits for owner Michael O'Brien and his plant hire company, based in St Albans, Hertfordshire. "The benefits include increased safety and flexibility in terms of where we can work," he says. "They give our company greater versatility; we can reach more customers with these machines."
Operator Tony O'Sullivan was impressed by the performance of the Hitachi ZX350LC-3. "I was initially surprised at how stable it was, how far it could reach and how much material it could bring up," he said. "I found it easy to operate, it has smooth hydraulics and it's comfortable, too."
The sliding cab contributes to operator comfort and provides enhanced visibility, contributing to safety on any job site. "It is positioned 950mm further forward than on a conventional Hitachi excavator," says HM Plant Operations Director David Hearne, "and it has the capacity to slide a further 1,300mm forward, allowing for an additional two metres of visibility through the glass floor. The new ZX350LC-5 model has the additional advantages of an enhanced TRIAS hydraulic system and stage IIIB low-emission engine, as well as a host of other updates associated with the Zaxis-5 range. We truly believe that our Japanese research, design and production teams have come up with a world-beating range of machines with the Zaxis-5 excavators."
Got a story? Email news@theconstructionindex.co.uk