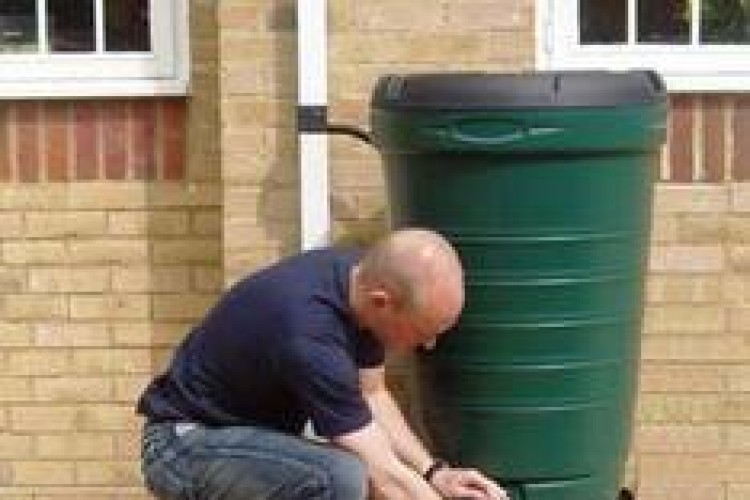 In its state of the nation report on water, the ICE calls for 'decisive and prompt action' to tackle the UK's deteriorating water security.
Ironically published on a day that has seen so much rain that water companies are starting to talk about lifting hosepipe bans, the ICE's report addresses the long-term crisis facing UK water supply.
The report says the recent droughts have been a 'wake-up call' for the UK but the urgency and severity of the UK's water issues is still not properly understood. It rates our current water security as level 4 on a 1-10 scale.
To tackle the crisis ICE has called for the creation of a 'UK Water Security Taskforce' to produce 'an integrated roadmap' to water security by spring 2014. The ICE reckons it is possible to reach water security level 8 or 9 - by 2025.
To achieve this, the report makes several recommendations for change including the development of new water storage facilities across the country, the removal of regulatory barriers that discourage water sharing between neighbouring companies and collaborative investment in new infrastructure, and the phased introduction of universal metering, with social tariffs to protect the poorest in society.
Chair of the ICE Water Panel Michael Norton said that no single solution on its own could solve the problems. "We are a populous nation facing a growing gap between what we can supply and what our water users need. Sadly it's only when hose-pipe bans are inflicted on us that the public has any glimpse of this reality. We have a valuable opportunity while water is in the forefront of the nation's minds to impress on the public the real value of this resource and we mustn't squander it."
Mr Norton added: "The changes ICE is recommending will require some upheaval to current regulations as well as firm decisions on how to forecast future demand, but once done we would see the effect relatively quickly."
The report says changing pricing structures to reflect the true value of water and building smaller but more evenly distributed water storage facilities across the UK will be crucial.
Currently most households pay only a £1 per day for unlimited water, which requires a costly treatment process to make it potable. ICE says in the long-term using expensive, potable water for everything including outside activities like watering the garden is unsustainable. It calls for a 30% reduction of per capita consumption in homes (currently 150 litres per day) and discretionary tariffs that reward low usage with prices rising as usage increases.

Engineers have previously leaned towards huge infrastructure schemes, proposing the construction of massive pipelines to move water for the wetter north and west to the drier south and east. The ICE is significantly against this idea now.
The ICE's report, The State of the Nation: Water, can be downloaded in full here.
Key extract on localims Vs grand schemes:
"While there may be those who view large scale bulk transfers as a panacea to improve water security, this solution is costly and comes with its own range of problems. For example, the high energy required to pump water long distances significantly increases the carbon footprint of water companies involved.
"Future water resource availability pressures will not be limited to the South East and East of England. Under many of the scenarios in the EA's Case for Change report Wales, South West and the North of England are likely to see significant unmet demand in the future. Moving water from these areas will only provide a short-term solution to water scarcity elsewhere and may exacerbate future water scarcity in the regions transferring water.
"ICE believes that new water resources, additional storage and inter-company transfers will have to be developed to close the supply/demand imbalance; not as the only solution, but as part of an integrated strategy which includes demand management. New resources are expensive and water companies should be encouraged and incentivised to collaborate in order to share both investment costs and risk so as to optimise the benefits of any new resource. Where appropriate, new resources should be developed for a range of uses, including hydropower, flood control, agriculture and public water supply.
"Multiple, smaller-scale, local solutions provide a significant opportunity to help alleviate current and future water supply deficits. This 'distributed infrastructure' is currently underdeveloped in the UK. Constructing medium and small scale storage, such as household and community-scale rain water harvesting and Sustainable Drainage Systems (SuDS), provides an effective way of collecting and managing precipitation at a local level and can help recharge groundwater levels.
"Aquifer storage and recovery (ASR) also offers a means of storing a proportion of high river flows and of treated wastewater. Recycling of grey water in the home and of treated wastewater for indirect uses offer, in effect, new sources of water to help alleviate the supply deficit.
"Collecting raw rainwater in butts for use on lawns and gardens and for car-washing is a clear contributor to water efficiency. The contribution of small scale measures to solving future supply-demand shortfalls may be small, individually, but their benefits accumulate, as uptake rises, and they need to be pursued."
Got a story? Email news@theconstructionindex.co.uk