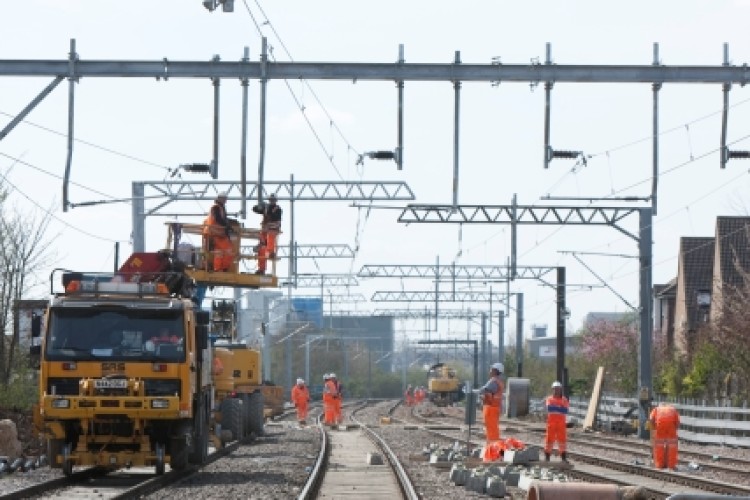 The announcement, reported here yesterday, was published as part of the Department for Transport high level output specification (HLOS) and statement of funds available (SoFA) between 2014 and 2019 for railways in England and Wales.
Civil Engineering Contractors Association external affairs director Alasdair Reisner said: "We welcome the government's continuing commitment to investment in a modern and efficient rail system that supports growth and improves competitiveness.
"Demand for rail is increasing and this announcement ensures that there will be a sustained programme of investment to meet this demand from 2014 onwards.
"CECA shares government's vision for a railway system that is faster, more reliable, less crowded, and more sustainable. If this vision is to be achieved, it is essential that the government maintains its support for investment, working with industry to deliver efficient improvements to the network."
CBI director-general John Cridland said: "This announcement demonstrates a welcome commitment from the government to provide much-needed additional capacity and electrification for our heavily-used rail network. Schemes like the Northern Hub and new 'Electric Spine' will bring our cities closer together and provide a spur to businesses up and down the country."
He added: "I look forward to seeing further ambitious investment decisions for the road network."

The Freight Transport Association welcomed the £200m investment in strategic rail freight enhancements for England and Wales. According to the HLOS, this should improve the current strategic rail freight network. Additional investment in schemes such as the 'Electric Spine' corridor of electrification linking Yorkshire and the West Midlands to south coast ports will benefit freight as well as passenger traffic, and will be accompanied by loading gauge enhancement for taller shipping containers.
FTA's rail freight policy manager Chris MacRae said: "Rail freight has already benefited from an equivalent freight focussed scheme in 2009 to 2014, so it is great that this investment is to continue; this has been a key objective of ours.
"FTA has already lobbied the government and parliament on key rail freight infrastructure enhancement schemes.  The announcement of the fund for the strategic freight network, together with the additional investment schemes that will benefit freight as well as passenger traffic, is welcome progress on these objectives."
The RMT rail union was notably unenthusiastic, however. General secretary Bob Crow said: "What we need is investment in rail today not yet another political promise of jam tomorrow. All of the rail projects on this shopping list have been talked about for years and with the surge in passenger demand we cannot afford further delays like the ongoing Thameslink fleet replacement fiasco. We have the chance to create thousands of rail jobs if the politicians wake up and get these projects moving.
"However, RMT will fight any cynical attempt to finance investment at some date way off in the future by sacking guards and smashing up ticket offices as recommended in the government's McNulty command paper.
"The truth that the government choose to ignore is that all of these investments could be funded overnight without costing taxpayers or passengers a penny if they called a halt to the multi-billion pound rip off of rail privatisation."
Got a story? Email news@theconstructionindex.co.uk