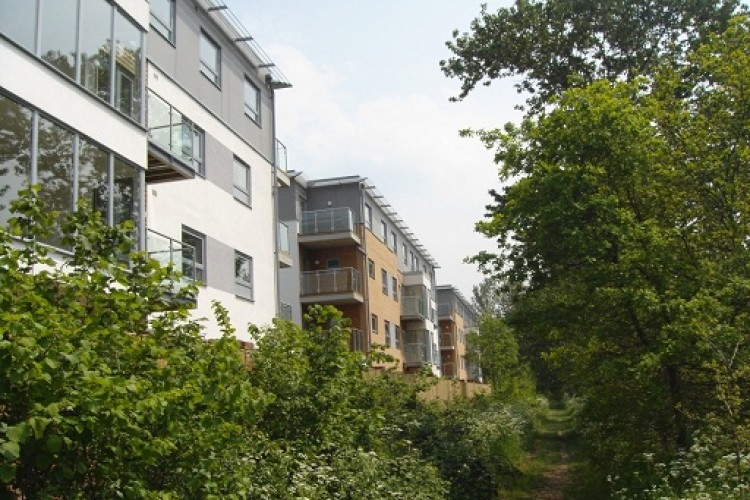 Six thousand metres of ISO-CONNECT Vario SD humidity regulating foil and 150 litres of ISO-TOP Flex-adhesive XP were used for the mix of 212 one, two and three bed homes being built in a contemporary style at The Meadows in Mitcham in the London borough of Merton.
Specified because of its ability to provide rapid and effective year round high performance sealing of window and door frame connecting joints, ISO-CONNECT Vario SD will offer 'intelligent' humidity control for The Meadows scheme which also features roof mounted solar panels, a communal play area for children and under croft car parking.
The foil comes from a new generation of window sealing products which not only adapt to seasonal variations but also provide an excellent external weather seal that surpasses the current, and proposed, UK Building Regulations for air tightness in domestic and commercial buildings when used as an internal seal. As well as sealing against wind driven rain to Hurricane forces.
Designed to last the lifetime of the windows the ISO-CONNECT Vario SD comes in a variety of widths and adhesive variations which features a high quality acrylic adhesive to bond to the window profile.

Product can be supplied either with a pre-applied butyl adhesive to bond to the building substrate, or left plain. If the plain version is selected then the ISO-TOP Flex-adhesive XP is the ideal partner to bond the sealing foil to virtually any substrate and guarantee the airtight and weather tight integrity.
Both products are part of the ISO3 3-level sealing system, which comes with a 10 year guarantee.
ISO-Chemie is one of Europe's main producers of impregnated foam sealants, specialising in the manufacturer of foam products from polyethylene (EPE), polypropylene (EPP) and polyurethane (PUR) using the latest production techniques.
The company's UK technical and distribution operation is based in the North East of England, supported by a dedicated logistics service to ensure customer orders are completed as quickly and efficiently as possible (usually next-day delivery).
Got a story? Email news@theconstructionindex.co.uk