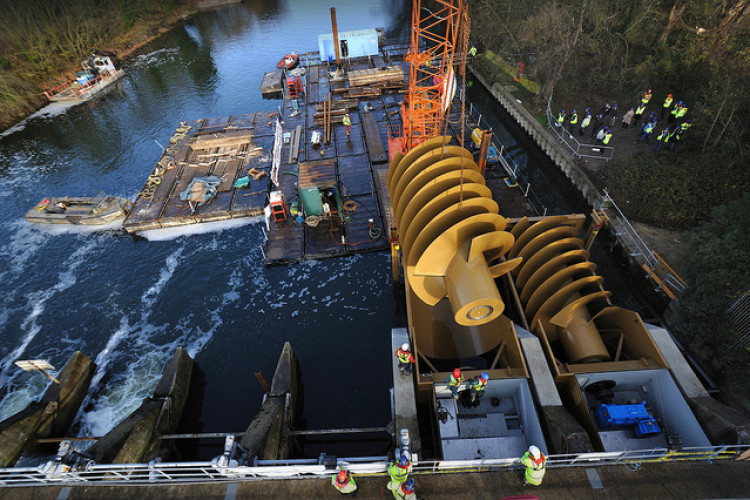 The largest hydropower scheme in the southeast of England is being built by Jackson Civil Engineering for SEPEL under a £1.7m contract.
The two 40-tonne turbines are sited at the Environment Agency's Romney Weir on the River Thames. Once up and running in the new year, the UK's largest Archimedes screws will generate 300kW of energy every hour for up to half of the royal residence. Any surplus electricity will be sold back to the national grid by the developer Southeast Power Engineering Ltd (SEPEL) for use in homes in Windsor.
Jackson contracts director Brian Crofton said: "Jackson is delighted to be involved with this scheme, the first of its kind on the River Thames. Hydropower definitely has a place in the UK's future energy mix and we hope to be involved in more schemes going forward.  From an engineering point of view, this project is fantastic; it is always good to see our industry being involved in new projects like this where we are combining innovation with existing assets on our rivers to create renewable energy for the future."
SEPEL director David DeChambeau added: "We are very proud to have been chosen to deliver this innovative project and to have the Royal Household as a customer. I believe my company is making a significant contribution to our country's energy security. In turn, by utilising locally produced and pure renewable energy in Windsor Castle, the Royal Household is helping to reduce the UK's dependence on imported energy."
Got a story? Email news@theconstructionindex.co.uk