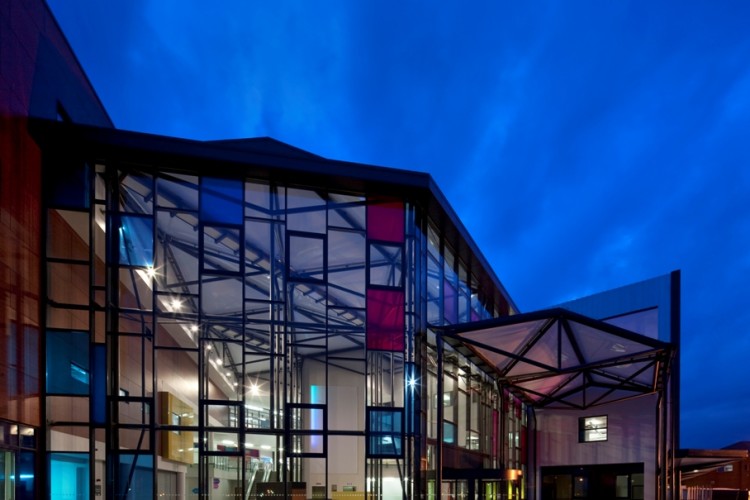 Kawneer's AA®100 (with face caps) and AA®100SG (Structurally Glazed, without face caps) curtain walling, AA®602 pivot windows and AA®601 fixed-light and top-hung casement windows feature throughout the new-build element of the £175million project.
The redevelopment rationalises and rejuvenates the fragmented campus into a single, unified hospital with the introduction of new buildings comprising a diagnostic treatment centre, women, children and young person's unit, and an education centre.
Careful planning by Steffian Bradley Architects integrates the retained buildings and streamlines existing entrances into a main civic area, just one mile from the town centre, with clear and obvious links to all parts of the health campus.
Internal health planning has created the opportunity for external multi-coloured lanterns, articulating the Kawneer-clad elevations. Also designed to provide generous connections between the inside and outside, the new hospital building is illuminated by generous amounts of natural light.
Kawneer's curtain walling acts as the façade to multi-storey concourse spaces as well as cladding over several floors. It was installed by specialist sub-contractor Prater for design and build contractor Skanska, who are also undertaking the hard facilities management of the hospital under the Skanska Innisfree 33-year PFI scheme.
Steffian Bradley Architects have used Kawneer systems before, on Brierley Hill Health and Social Care Centre and Runwell Hospital's forensic medium secure facility.

Project architect Dorian Holzapfel said of the Walsall project: "The Kawneer systems are significant in the design language. As a façade treatment, the curtain walling produces what we refer to as lanterns and for the concourse spaces it is integral for the play of natural light and shadows linking the inside to the outside.
"Externally the glazed facades build the feature lanterns and the multi-storey glazing to the concourses are means of structuring the building massing as well as supporting the address building, particularly at the main entrance.
"Internally, the concourse spaces receive the high levels of natural light intended. This links the inside to the outside, preventing users from feeling caged or lost which is of particular importance on a hospital environment.
"In addition to this, the Kawneer windows could be sized quite big (the majority are 1.8m wide) which achieves high volumes of natural light within individual rooms."
He added: "The Kawneer systems complied very well indeed with the aesthetic and performance requirements of the project."
Got a story? Email news@theconstructionindex.co.uk