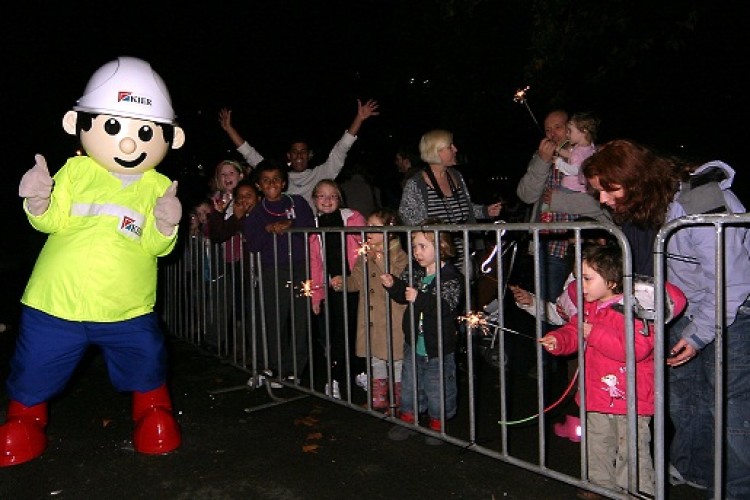 Funding cutbacks had threatened the cancellation of the hugely popular free annual display, run for the past 20 years by the Coram's Fields charitable trust - which relies heavily on donations and fundraising to keep open the children's park and playground near Great Ormond Street Hospital.
But a dazzling show of soaring starbursts and glittering colours lit up the night sky over the seven-acre grounds on Friday after the event was rescued by Kier site manager Aaron Bailey and his colleagues, who are working on a building project at the Institute of Child Healthcare, which overlooks the park in Guilford Street.
Aaron said: "As our site offices are directly opposite, my partner and I sometimes bring our two children to the park on Saturdays. When we heard the fireworks were facing cancellation we decided to raise the money ourselves."
For starters, Aaron and his Kier team donated bonuses they received for achieving good performance and safety standards on site. This, together with contributions from site subcontractors, brought the total to around £1,500.

This was matched by donations from other Kier sites in the capital and from Kier Construction's London office, raising the £3,000 required to put on the display.
Coram's Fields charity director Octavia Holland said: "It's fantastic that the guys from Kier stepped in to save the day. This is the only community fireworks event in the area and so many local children and their parents would have been disappointed if we had been unable to go ahead this year."
Aaron's own family were there to watch him declare the proceedings open in front of a cheering crowd estimated at 2-3,000 strong. "This is such a wonderful attraction for children that we simply couldn't stand by and do nothing to save it," said Aaron. "I would like to thank Shirene Jarvis, who is based at our head office in Loughton, for her hard work in helping us make this possible."
Shirene said: "It was heart-warming to see so many young, happy faces lit up by the fireworks."
Got a story? Email news@theconstructionindex.co.uk