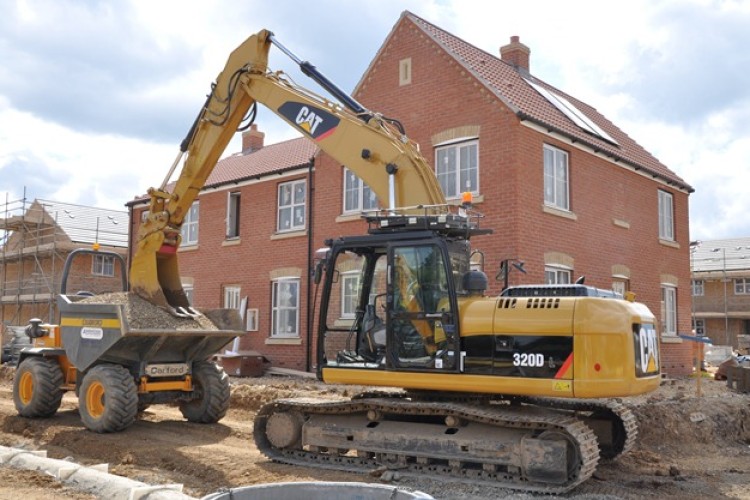 Like most housebuilders, Stepford Homes used to subcontract groundworks, but now finds it quicker and easier to do all the work itself.
"Traditionally the company never had to carry out its own civils work as it would be outsourced, but since the recession it has become harder and harder to find a suitable civils company to carry out the work that needs to be done," said contracts manager Philip Hayden.
"It was at this point that Stepford Homes decided to bring all its civils work in house creating its own division, Stepford Civils, which has enabled the business to dramatically speed up its turnover time of the sites through the investment in a fleet of its own plant machinery."
Stepford has bought four Caterpillar excavators for the development of 50 homes in West Lynn, Norfolk, as well as for 12 similar housing association sites across the east of England.

Mr Hayden said that Stepford had taken just four months to take the West Lynn site from brownfield to first residents moving.
The Civil Engineering Contractors Association acknowledged that groundwork specialists had become harder to find, but said that it was ready to help housebuilders locate those that have survived. CECA director of external affairs Alasdair Reisner said: "Contractors who carry out enabling works for housing were among the first to be hit by the downturn, as housebuilders mothballed sites across the country.  Sadly they were not only the first to be hit, but also among those who took the most pain. A sub-sector that had previously provided up to a quarter of the civil engineering sector's workload dwindled to almost nothing. Scarce work opportunities, and a consequent rise in suicidal bidding, meant that many companies did not survive.
"But as the housing market hopefully starts to return to its feet, clients will still demand that their developments are built from firm foundations. Fortunately those contractors that survived will have done so by continuing to deliver quality, refusing to cut corners or bid at unsustainable levels. The Civil Engineering Contractors Association can help direct clients to members who fit this bill, offering long experience of such works. Such firms will help clients to offset the risks associated with enabling works, helping projects to get off the ground and contributing to a resurgence in the housing sector."
Got a story? Email news@theconstructionindex.co.uk