As of today (1 December 2011),Linden Comansa is offering  the LC 3000 flat-top series, comprising two models: the 30 LC 1100 and the 30 LC 1400.
Each model comes in three versions with different maximum load capacity: 32t, 48t and 64t.
Prior to its acquisition by Comansa of Spain, Swedish crane maker Linden used to offer such large cranes in the 1970s. And in the 1990s, Linden Comansa took some special orders for cranes with maximum loads up to 60t. But Linden Comansa says that the new design of the LC3000 series makes it feasible to produce such large cranes with shorter manufacturing and delivery times and at lower prices.
The cranes of the LC3000 family are erected with tower sections that are 4m wide and 5.5m high, specially designed for this series. Maximum freestanding height is 88.8m. With just two tie frames, they can reach 198.3m in height.
Greater free standing heights can be achieved using alternative 5.5m wide tower sections.
The cranes use a 200kW frequency controlled hoist with drum capacity for 1,450m of wire rope.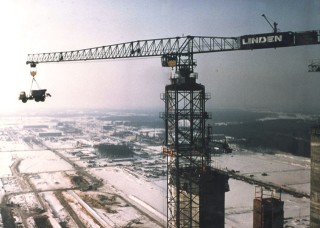 Series

Model

Maximum freestanding height

Maximum
load

Maximum
Jib-length

Jib end
load

LC 3000

30 LC 1100 32 t

88.8 m
291 ft.

32 000 kg
70 550 lbs

80 m
262 ft

11 000 kg

24 250 lbs

30 LC 1100 48 t

88.8 m
291 ft.

48 000 kg

105 820 lbs

80 m
262 ft

11 000 kg

24 250 lbs

30 LC 1100 64 t

88.8 m
291 ft.

64 000 kg

141 090 lbs

80 m
262 ft

9 500 kg

20 940 lbs

30 LC 1450 32 t

88.8 m
291 ft.

32 000 kg
70 550 lbs

80 m
262 ft

15 000 kg

33 070 lbs

30 LC 1450 48 t

88.8 m
291 ft.

48 000 kg

105 820 lbs

80 m
262 ft

15 000 kg

33 070 lbs

30 LC 1450 64 t

88.8 m
291 ft.

64 000 kg

141 090 lbs

80 m
262 ft

13 500 kg

29 760 lbs
Got a story? Email news@theconstructionindex.co.uk