The company was prosecuted by the Health & Safety Executive (HSE) following the blast at its Didsbury Gate development on 8 December 2009.
Manchester Crown Court heard yesterday (29 November 2012) that the former Withington Hospital building on Nell Lane was being converted into houses and apartments when a worker cut through a six-inch gas pipe in an underground tunnel.
The 41-year-old from Elton, Cheshire, who has asked not to be named, suffered burns to his hands and face when gas inside the pipe ignited. About an hour later, gas that had continued to leak from the damaged pipe ignited again causing an explosion that destroyed a large part of the site.
The emergency services evacuated residents from hundreds of homes following the initial gas leak, including 21 apartments at the Didsbury Gate development which already had people living in them.
Businesses, three schools, a hospital, two health units and a police station also had to be evacuated, and the Urban Search & Rescue team was brought in to search the rubble to see if anyone was trapped.
Debris from the site landed on The Birches Primary School nearby, damaging buildings, a play area and the power supply for the school.
The court was told that PJ Livesey Group, the principal contractor for the development, had obtained a diagram from National Grid during the planning stages of the project which showed a gas main running into the site.

However, the company did not arrange for a detailed survey to be carried out to find out where the pipe ran, and wrongly informed workers on the site that the gas pipes had been decommissioned.
PJ Livesey Group Ltd pleaded guilty to two breaches of the Health and Safety at Work etc Act 1974 after failing to ensure people's safety. The company, of Beacon Road West in Trafford Park, was fined £100,000 and ordered to pay prosecution costs of £21,404.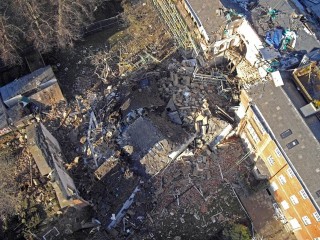 After the hearing, HSE investigating inspector Thomas Merry said:"This was a major incident that led to a massive emergency response and significant disruption to the neighbourhood. It was only luck that more people weren't seriously injured or even killed in the explosion.
"It was unacceptable for PJ Livesey Group to allow the work to go ahead without checking that the gas supply had been properly disconnected. What's worse is that the company actually had a National Grid document showing a gas main entering the site.
"A simple check would have identified it as being live, and avoided months of disruption and heartache for those residents who lost their homes.
"Construction companies involved in the refurbishment or demolition of buildings must make sure they know what potential dangers they're dealing with before they allow work to start."
Got a story? Email news@theconstructionindex.co.uk