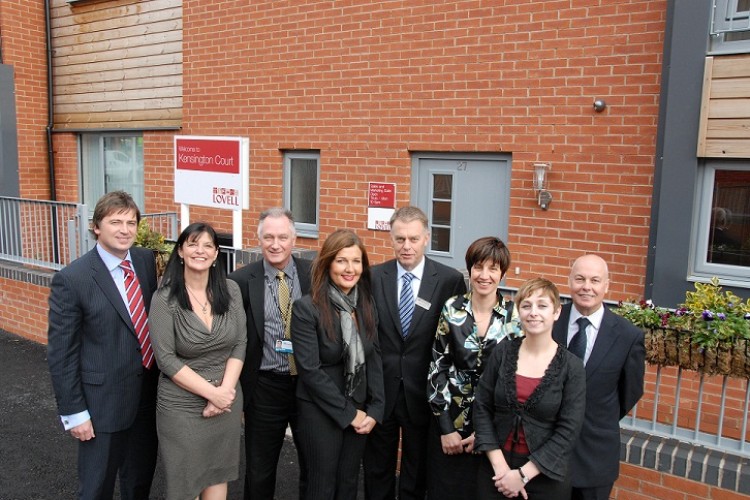 The launch of Kensington Court marks an important stage in the progression of the second phase of the £18 million development at Gilead Street - a landmark mixed-tenure regeneration project in the Kensington area.
Kensington Court gained Kick Start investment from the Homes and Communities Agency (HCA) in 2009, and Lovell began work in 2010 on the second phase of this flagship scheme with housing association Riverside, the HCA and Liverpool City Council.
Nigel Yates, regional director at Lovell says: "This is a key development for both Lovell and the regeneration of Kensington, and it is great to see the progress that has been made by all involved.
"We are thrilled at the positive impact the scheme is having on the local area, and are committed to continuing to work closely with local residents and our partners on this project."
Councillor Ann O'Byrne, Liverpool's cabinet member for housing, says: "Kensington Court is a fantastic scheme which is breathing new life into an area of the city that desperately needs the investment. It is an important part of the overall regeneration of Kensington, creating properties and neighbourhoods where people want to live. Local residents have been closely involved in the development to make sure there is a good mix of quality, affordable homes to meet their needs."

Neil Pickering, HCA head of area for Merseyside and Cheshire says: "It is great to see first hand the positive impact that Kick Start investment is having in Kensington by providing local people with a new choice of great affordable homes.
"Through the hard work of the Council and their partners, these homes are now making an important contribution to the vitality of the area with its good transport links, parks and open spaces, local schools and community facilities."
Kensington Court, the second phase of the Gilead Street development, is a mixed-tenure scheme comprising 58 environmentally sustainable properties, including a range of 2- and 3-bed houses and 2-bed apartments. The apartments are available exclusively through Riverside.
Carol Lavender, divisional director of Riverside home ownership says: "We are proud to offer these aspirational, top quality homes at a subsidised rent. Our tenants can enjoy all the comforts of a new home while saving for a deposit to get onto the property ladder."
The development offers homes for rent and for sale, all of which have been built to fit in seamlessly with one another, creating a fully inclusive community.
Got a story? Email news@theconstructionindex.co.uk