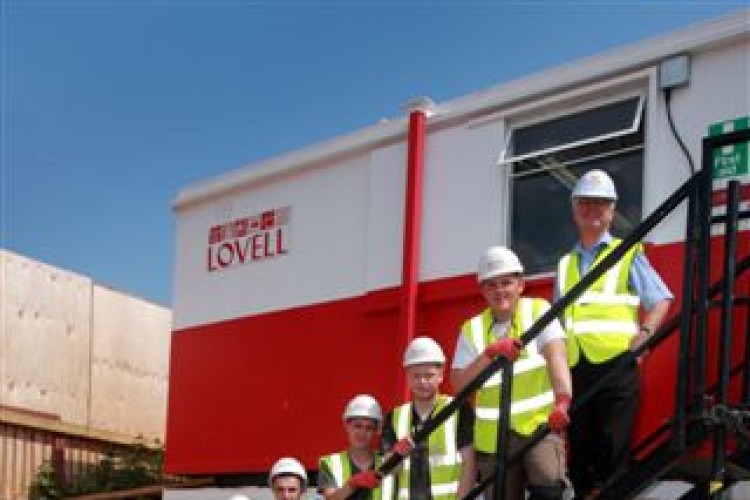 By employing three bricklaying apprentices, two plastering apprentices, two plumbing apprentices, two joinery apprentices and also a management trainee the company has provided employment for 10 local people at Stonebridge Park.
With a further apprentice already recruited by housing and regeneration group LHA-ASRA, the regeneration project at Stonebridge Park has provided a total of 11 new and safeguarded apprenticeship placements.
The appointments are part of the initiative by national housing and regeneration agency, the Home and Communities Agency (HCA), to encourage local job and training opportunities as a result of public investment into housing schemes.
By joining forces with Nottingham Academy and Jobcentre Plus, Lovell has surpassed its original training requirements. It also provides work experience to Year 10 students and local people who are struggling to find work, with the aim to teach them skills and gain experience in a worthwhile industry.
Kelvin Phipps, 51, is just one person who has benefited from the scheme. Previously unemployed due to ill health, Kelvin is now working towards his NVQ Level 2 qualification and enjoying full-time employment with Lovell at Stonebridge Park.

Kelvin, from Bulwell, says: "I really enjoy what I am doing. I used to work as a mechanic and a bus driver but I had been out of work for a number of years because of illness. I just got to the point where I wanted to work. Finding the apprenticeship has given me a great chance to do that."
Noel Adams, regional director at Lovell, says: "Apprentices are a valuable asset to our business and it is great to see local people thriving within the construction industry. We truly believe in trying to make a difference to people's lives and by helping our apprentices gain practical skills, hopefully we will achieve that."
ConstructionSkills, the Sector Skills Council and Industry Training Board, supported Lovell with the apprenticeship recruitment. This has enabled Lovell to recruit a high calibre of apprentices, who are now specialising in areas such as bricklaying and plumbing.
Tara Willey, investment and regeneration manager for the HCA, says: "We are pleased that the effort to ensure development at Stonebridge Park has had the maximum benefit for the local community. Providing construction qualifications to local people through the apprenticeship programme is a clear indication of Lovell's commitment to the project."
Stonebridge Park is a regeneration project supported by £5.6 million investment from the HCA. The homes are both available for rent and for sale in partnership with LHA-ASRA, Nottingham City Council and the HCA.The investment will help to unlock a total investment of £11 million for new housing in the area. The scheme is due to be completed in summer 2012.
Got a story? Email news@theconstructionindex.co.uk