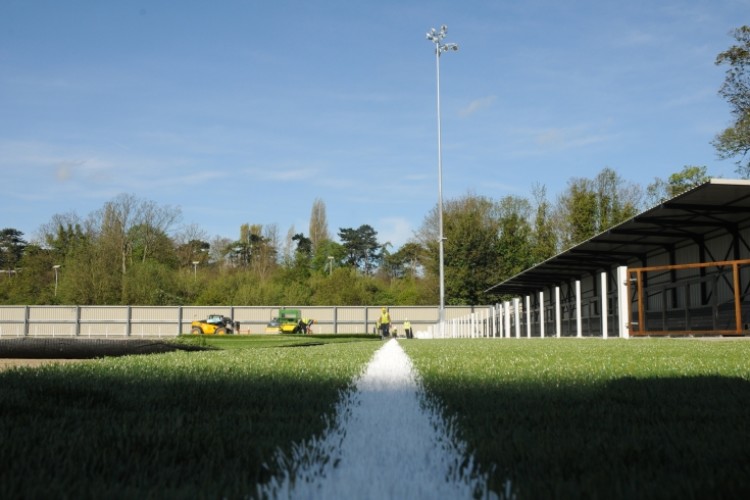 Synthetic turf was about as popular as hooliganism in the 1980s, and for anybody who played on them possibly more dangerous. Impact injuries caused by rock-hard surfaces were an occupational hazard and carpet burns the norm for goalkeepers not prepared to wear tights.
But in the last ten years artificial surfaces have been making a comeback as technology has improved. It is becoming particularly popular in countries with harsh winters such as Russia and Scandinavia, where frozen pitches can lead to cancelled games and lost revenue.
In 2005 UEFA announced that approved artificial surfaces would be allowed in their competitions and in 2007 England played an international against Russia on an artificial pitch at the Luzhniki Stadium in Moscow.
Now there is a mini-resurgence in the UK, particularly in Scotland where five league clubs now have artificial turf.
The latest team to play on synthetic grass is Maidstone United of the Isthmiam League (see box for specification). Oliver Ash, who co-owns the club with Terry Casey, believes artificial grass is now the equal of the best natural turf, but that is not the only reason he's opted for a synthetic pitch.
"With artificial turf our club has a viable business plan. We can play on our new ground around the clock," says Ash. "We would not have rescued this business without approval for synthetic turf."
Ash says its new pitch will turn the ground into a new hub for the community with teams from local schools and clubs playing on the pitch for up-to 50 hours a week. While natural turf can only be used for around 10 hours a week, the durability of the Maidstone pitch means the club can also use the pitch to run an academy for youth players.
"A natural turf pitch is sitting idle for most of the time," says Ash, "rendering a football club unprofitable."
It's perfect for small clubs that only have space for one pitch, he adds.

Now the Maidstone co-owner is eager to spread the word. He aims to take Maidstone into the Conference but the league currently bans synthetic pitches, as does the Football Association in the FA Cup, though not the FA Trophy. To lobby for change, Maidstone has started the 3G4US campaign group and currently has 25 teams signed up.
Levelling the playing field
The Fieldturf pitch laid at Maidstone United is a far cry from the 'plastic' pitches that gave Luton, QPR and Preston a distinct home advantage in the 1980s and 90s.
Maidstone's pitch is known as a third generation or 3G surface. The first generation pitches had short synthetic fibres of around 20mm without any infill. 3G surfaces have 60mm fibres and an infill of sand and recycled rubber.
At Maidstone a layer of sand was applied first to provide stabilising ballast and help with drainage. It was followed by a rubber and sand mix of around 15mm in depth. The rubber replicates soil and ensures a realistic ball bounce – the sand is added to avoid 'rubber splash' when tackles fly in and to prevent the rubber shards from compacting over time, and hardening the pitch.
Paul Fraser, Fieldturf sales director, says the firm has been working with a petrochemical giant in Europe to produce synthetic fibres that are durable and non-abrasive. The recipe is a closely guarded secret but is a mix of polyethylene, various additives, colouring and a UV stabiliser. The mix aims to limit deformation so that fibres regain their shape quickly after being stepped on – this helps slow the speed of the ball.
"It's a long way from the nylon [polypropylene] used in the 1980s, which is the same material used to scour pots and pans," says Fraser.
The fibres were tufted into a polypropylene membrane and rolled onto a sub-base of crushed stone applied by Tony Patterson Sports Grounds. Tarmac can be laid over a crushed stone base to achieve a level surface more quickly.
Got a story? Email news@theconstructionindex.co.uk