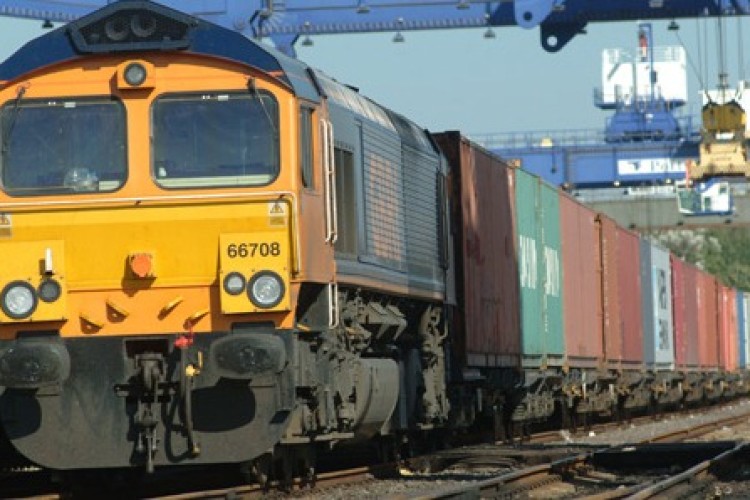 The line, already electrified between London and Bedford, could be upgraded further north to Sheffield.
The Midland Main Line upgrade is the biggest single new project among a £9.4bn package of rail infrastructure work for 2014-19 in what is being called the biggest investment in rail since Victorian times. The cabinet will discuss the viability of the plan, called High Level Output Specification (or HLOS), when it meets today. 
Much of the work includes ongoing projects, such as Crossrail and Thameslink and electrification between London and Cardiff, Manchester to Liverpool and Preston, and across the Pennines. These account for £5.2bn of projects already committed to during 2014-2019.
Previously announced plans to electrify the Great Western Main Line from London to Cardiff will now be extended to Swansea, while bottlenecks on the East Coast Main Line will also be removed. 
An additional £4.2bn for public spending is proposed for additional schemes by 2019.
Last week three rail freight projects got clearance after securing an £11m contribution from the European Commission:
electrifying the line between Liverpool and Manchester
increasing capacity and train lengths on the Southampton to West Coast main line route
new freight loops near Ely, as part of the Felixstowe to Nuneaton freight route
The North West electrification project will see 25kv overhead power delivered to the routes between Liverpool and Manchester, Huyton to Wigan, Preston to Blackpool and Manchester to Preston via Bolton. The work complements the lines that are already electrified in the region – notably the key freight route of the West Coast Main Line, the busiest mixed use railway in Europe.
The route from Southampton to the West Coast main line is being improved to offer gauge clearance for large 9ft 6 containers, longer loops to allow longer trains, and new cranes. The funding has been invested to increase train lengths.

Felixstowe to Nuneaton is one of the UK's busiest freight routes and the area around Ely is recognised as one of the major pinch-points. Installing the 775-metre freight loops will increase capacity, improve reliability and allow longer trains to be run. It follows previous successful funding bids to improve other parts of the route. This is a separate project from the proposals to improve Ely North junction, work on which is going on now.
Other new projects in HLOS include £350m lengthening of platforms at London Waterloo station to provide capacity for 120,000 more daily commutes in and out of London, and £240m of improvements along the East Coast Main Line. A new £500m rail link between the Great Western Main Line and Heathrow is also porposed, offering direct services to the airport for passengers from the West Country, the Thames Valley and Wales.
Transport secretary Justine Greening said: "Investment on this scale, in every region of the country, shows how this coalition government is focused on delivering an affordable, reliable and faster railway network that drives jobs and growth.
"These plans to increase capacity and shorten journey times on intercity, commuter and freight services are, alongside our plans for high speed rail, absolutely key to securing our country's prosperity in the decades ahead."
Prime minister David Cameron said: "From Crossrail, high speed rail and now the billions of pounds of investment we are announcing today, this government is committed to taking the long term decisions to deliver growth and jobs. In what is the biggest modernisation of our railways since the Victorian era this investment will mean faster journeys, more seats, better access to stations, greater freight links and a truly world class rail network."
Chancellor of the exchequer George Osborne added: "I am pleased that the Northern Hub will be funded in full as part of the government's plans, which is a significant boost for the major towns and cities of the North, helping to rebalance the UK economy and enabling growth and regeneration throughout the regions. This government is making more funds available to invest in rail projects than at any time since the Victorian era, and shows that the government is committed to delivering on its promises to support investment in public infrastructure that will support economic growth."
Network Rail chief executive David Higgins said: "Today the government has issued a strong vote of confidence in the railway, and in our ability to deliver sustainable economic growth through development of, and investment in, the network. It is also a vote of confidence in the success of rail over the last decade, with over one million more trains per year with half a billion more passengers, at record levels of safety, punctuality and satisfaction.
"We do not underestimate the task laid down for us, but we will work alongside industry partners in the Rail Delivery Group to respond with a suitable plan. There are some tough targets, made even more challenging with the need to deliver record numbers of services on essentially Victorian infrastructure. That is why the pledge to invest billions of pounds in projects to improve, update and transform our railway is not only welcome but essential. Alongside this we will continue to deliver the highest possible levels of safety and performance across the network, while reducing costs for the remainder of this control period and the next."
Got a story? Email news@theconstructionindex.co.uk