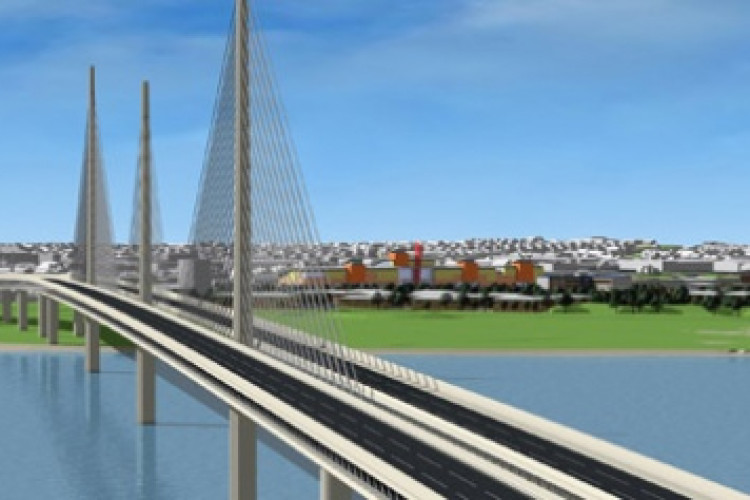 Proposals include changes to the road layout and to the design of the bridge itself.
The £589m Mersey Gateway will be a six-lane bridge between Runcorn and Widnes. Its go-ahead was confirmed last week when the government agreed to stump up £470m after Halton Borough Council demonstrated how it could shave £30m off the original project estimate. These cost-saving changes are now to be subject to consultation before a planning application is submitted.
Changes to the road layouts are being considered on either side of the river to remove the need for large toll plazas in Widnes. An Open Road Tolling (ORT) system would mean using cameras and vehicle recognition technology to collect tolls for crossing both the new bridge and the existing Silver Jubilee Bridge.
On the Runcorn side of the river, the project team has responded to local concerns by adjusting the plans for the slip roads at either side of Halton Brow to reduce projected peak time traffic levels alongside Warrington Road by up to 60% and to improve access to facilities at Halton Lea.
The public consultation also covers possible alternative designs for the new bridge. While final design will be up to the contractor, the council wants to increase the design flexibility available to contractors within the scope of planning permissions obtained. Some design freedom is important to improve the construction process and maximise value for money, it said.

Alternative designs under consideration would not accommodate a future light rail scheme and if these were adopted the council would use the Silver Jubilee Bridge rather than the new bridge for future public transport services including any light rail future proposals.
Mersey Gateway project director Steve Nicholson said: "Our discussions with government, local residents, councillors and others have identified ways that could improve value for money across the project and better meet the concerns of residents."
He added: "Although the changes identified are relatively small, our estimates show that this amended approach could reduce the cost of the scheme by at least £30m, but it is important that we get the views of local communities before we submit any new planning applications. "
As part of the consultation, the project team is holding two exhibitions in October to give local communities a chance to give their views on possible modifications to the project. There will be one exhibition in Runcorn on 18 October and one in Widnes on 19 October.
Views can also be submitted online at www.merseygateway.co.uk.
Got a story? Email news@theconstructionindex.co.uk