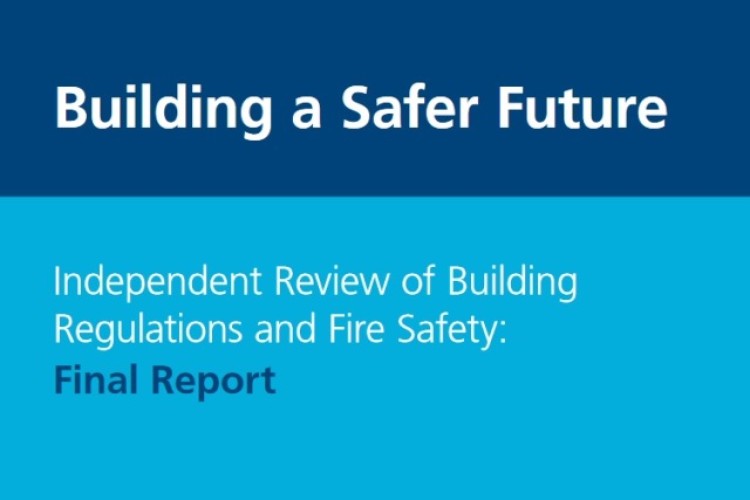 Some who have not read the report, or failed to understand it, have voiced outrage that certain types of material implicated in the Grenfell Tower fire are not being banned.
Others are disappointed that the safety products they sell are not being made compulsory.
However, Dame Judith Hackitt's support for an outcomes-based approach to regulations rather than a prescriptive approach receives strong support in other quarters.
David Lammy MP dismissed the report as a "betrayal and a whitewash". He said: "It is unthinkable and unacceptable that so many people can die in a disaster like Grenfell and one year on flammable cladding has not been banned."
Labour shadow housing minister Sarah Jones said Hackitt's report a "wasted opportunity" and the recommendations did not go far enough.
Solictor Andrew Lancaster, partner and construction regulation expert at Anthony Collins Solicitors, seemed to agree. He said: "It is disappointing that the report fails to recommend that inflammable cladding materials must no longer be used on high rise residential blocks. This is something that could be implemented now, whereas a joined-up regulatory approach will take years to put in place."
Housing secretary James Brokenshire said that there already was a ban, of sorts; the cladding used on Grenfell Tower should not have been used as it was "unlawful under existing building regulations".  However, in the face of pubic outcry the government will consult on banning the use of combustible materials in cladding systems on high-rise residential buildings.
Among disappointed product manufacturers hoping for a Hackitt-induced sales lift was Mark Larden, UK managing director for Geberit, a Swiss producer of sprinkler systems. He said: "It is disappointing that there were no recommendations made around the installation of fire safety and suppression systems, such as sprinklers, in new or existing buildings – particularly existing tower blocks. Sprinkler systems can protect lives and buildings, and reduce the burden on public sector funding. It is no coincidence that nobody has ever died from a fire related incident in a building with a working sprinkler system in the UK."
He added: "By breaking down the barriers to retrofit installations, the fire sprinkler industry is already facilitating safer homes. It is disappointing that these benefits are not being taken advantage of through mandatory installations."


London Assembly planning committee member Navin Shah also felt that Dame Judith should have recommended making sprinklers compulsory in tower blocks. "It's very disappointing that this review of building and fire regulations has not recommended sprinklers or other similar systems to be made mandatory in all buildings above 18 metres," he said.
Cladding supplier Vivalda Group had also hoped for a ban on combustible materials, having introduced a company-wide policy last year to sell only A2 and above (non-combustible) materials to high rise developments. "We were expecting a far clearer statement from Dame Judith, which would include banning any combustible material on tall buildings," said managing director Ben Jayes. "I can't help feeling let down by the final review. We were expecting something stronger."
However, Dame Judith Hackitt made it clear in her report why she believes it is a mistake for government to dictate product selection. Instead, she said: "The new regulatory framework must be outcomes-based (rather than based on prescriptive rules and complex guidance) and it must have real teeth, so that it can drive the right behaviours," the report says. "This will create an environment where there are incentives to do the right thing and serious penalties for those who choose to game the system and as a result put the users of the 'product' at risk."
She said: "Prescriptive regulation and guidance are not helpful in designing and building complex buildings, especially in an environment where building technology and practices continue to evolve, and will prevent those undertaking building work from taking responsibility for their actions."
Engineers seem to get it. David Frise, chief executive of the Building Engineering Services Association (BESA), said: "Dame Judith's team spotted right at the start that it was not the building regulations themselves, but how they were applied and enforced that allowed a culture to develop, which led to the Grenfell tragedy. Banning cladding would not move that issue forward – it was the way in which the refurbishment of the tower was managed and delivered as a whole that should face scrutiny."
He said: "The review identified a major failing in that construction regularly starts before building control has signed off the design or is too far advanced for recommended fire safety work to be incorporated. The building's quality is then further undermined by the lack of meaningful penalties for anyone found to be in breach of the regulations.
"We need output-based regulations reinforced by financial and criminal penalties that far outweigh any benefits you might gain from cutting corners," said Mr Frise. "The cladding might have been the weak point in this particular project but we need a system that flags up all potential threats."
Edel Christie, UK managing director for buildings at consultancy firm Arcadis, also understood that systemic change was needed rather than banning certain cladding or making sprinklers compulsory. She said: "Although major disasters like Grenfell are thankfully rare, the findings of the Hackitt Review point to multiple weaknesses in regulation, competence and allocation of responsibility on building projects. Industry's inability to assure and demonstrate that all parties, owners, constructors or operators have taken responsibility for their part in the process lies at the heart of the broken business model highlighted by the Grenfell tragedy. This has undermined confidence in the integrity and safety of buildings, and we need to rebuild this trust as quickly as possible. The review team have worked fast in developing their report, but the recommendations now require both government and industry to maintain this momentum.  Our sector needs to act quickly, focusing on how we change the way responsibility is divided on projects, working with the government and the supply chain to ensure that we all understand how we can properly fulfil our roles." 
She added: "It is difficult to think of any part of industry remaining unchanged post-publication – assuming of course that government acts on the review and that industry does its part in driving its own change."
Got a story? Email news@theconstructionindex.co.uk