The signature bright red paintwork on the Unic URW-376 mini cranes sold to the MOD has been traded in for a camouflage green respray.
They have also been modified to meet military specification so that they are suitable for working behind enemy lines in 'stealth mode'. The crane's audio features can be turned off and any lights can be dimmed so lifting can be carried out without being detected. The machine's traffic light lamps have also been replaced with a sturdier LED light strip that will remain intact during transport and alleviate any risk of creating 'foreign object debris'.
The URW-376 is rated at 2.9t capacity and can be transported either inside aircraft or slung underneath using chains or cargo nets. A Unic URW-547 mini crane was recently carried by a Chinook helicopter to a remote coastal location where it helped install a stone monument in honour of Bomber Command.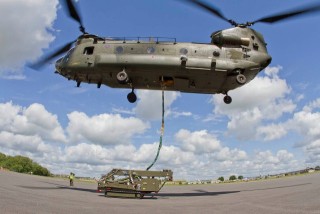 Got a story? Email news@theconstructionindex.co.uk