The Cat 336E H uses a new hydraulic hybrid technology developed by Caterpillar. It has filed more than 300 patents on the technology that it has developed for this machine.
The new 336E H will be officially launched at the Bauma 2013 trade fair in Munich, Germany next April, although orders will be taken from February and shipments start in March 2013.
"A hybrid is independent of any particular technology — it doesn't have to be electric," said Ken Gray, global product manager for large hydraulic excavators for Caterpillar's Excavation Division. "There are many ways to store and reuse energy, including our patented hydraulic hybrid system featured on the Cat 336E H."
He said: "Caterpillar has developed, built, and tested electric hybrid excavators, but — until now — we had not found a hybrid approach that would actually lower our customers' owning and operating costs. Large excavators operate in high-production applications in which fuel is a very significant operating cost for our customers. So, the 336E H, the hybrid version of our workhorse 336E, is ideal for introducing our new hydraulic hybrid technology, with its more than 300 filed patents.
"No other commercially available technology has higher power density than hydraulics, and that's why we selected a hydraulic solution to help our customers achieve substantial fuel savings. The 336E H also meets stringent Tier 4 Interim/Stage IIIB emission standards. It is extraordinarily quiet, too. So it's a socially responsible machine for our customers to own, and they will sacrifice nothing in terms of performance, power, force, speed or production. Once more, the owning and operating costs for the 336E H are actually lower than the standard machine. That's the value customers expect from Cat excavators."
Gary Stampanato, vice president of Caterpillar's Excavation Division, described the 336E H as "a game-changer — the most revolutionary excavator to come to market in decades".

He said: "Customers aren't going to choose the 336E H simply because it is sustainable. They will select it because it actually lowers their owning and operating costs, and maintains the performance of our industry leader, the 336E. Caterpillar has the most productive and fuel-efficient excavator product line in the industry, and our customers are supported by the best dealers in the world. The 336E H extends our leadership, is the right thing to do for our customers and is a sign of great things to come."
The 336E H conserves fuel with engine power management via the Cat Electronic Standardized Programmable (ESP) pump, which transitions between the hydraulic hybrid power sources, engine and accumulator. 
Performance is optimised using restriction management via the Cat Adaptive Control System (ACS) valve, which manages restrictions and flows to control machine motion with no loss of power.
Energy is reused via the hydraulic hybrid swing system, which captures the excavator's upper structure swing brake energy in accumulators, and then releases the energy during swing acceleration.
Cat says that the 336E H needs up to 25% less fuel than the standard 336D, and up to 33% less fuel than the 330/336D. At current fuel prices, Cat estimates that the new machine will pay for itself in just a year.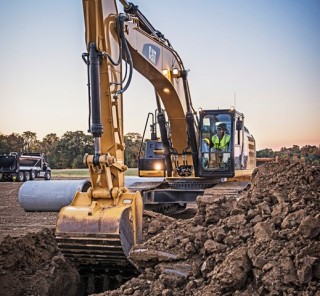 Got a story? Email news@theconstructionindex.co.uk