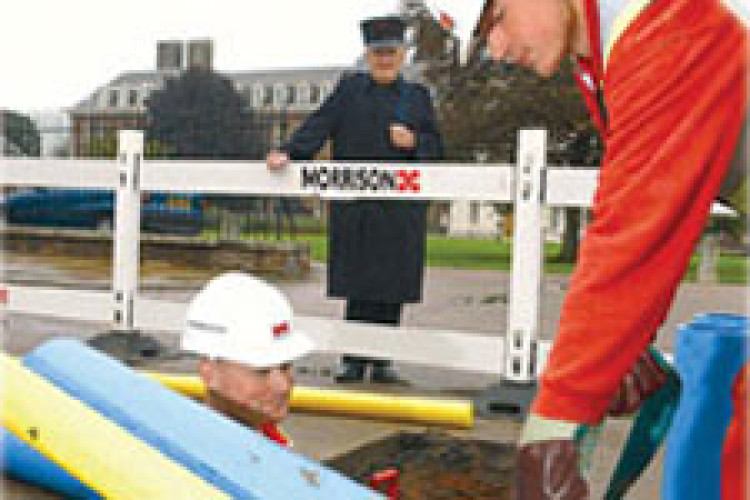 Turnover was up marginally to £494m, an increase of £14m on the figure for the previous 12 months.
Forward orders look health, with £1.55bn secured for the next five years. With potential for extensions, this could be increased to £3.7bn over 10 years. Over £300m was added to the order book during the financial year.
MUS has a strong cash position, with £19.1m in the bank, a fall from £26.3m a year ago.
Its net assets, including a net pension liability of £918,000, stand at £72.9m (31 March 2010: £60.8m).
MUS, formerly part of Morrison Construction Group, provides infrastructure maintenance services to clients in the utility sector. Most of its contracts are long term framework arrangements.
It is owned by private equity outfit Cognetas, which received an approach to buy the firm in August.

During the year, MUS secured a contract with WPD (formerly Central Networks), a new client, started work on a new contract through AMP5 with Yorkshire Water. It renewed its contracts with UK Power Networks, worth potentially up to £1bn.
It has a joint venture with Pipe Restoration Technologies, a US firm, to introduce a new lining technology for small diameter water pipes. This is "progressing well".
Chief executive officer Charles Morrison said that although the economic climate was "challenging", the UK utilities market "is perhaps more resilient than other parts of the economy. As expected, the regulatory reviews in the water and electricity distribution markets supported and maintained a high level of investment by utility clients."
He added: "The outlook for MUS is sound, based on our strong order book, consistent operational performance and excellent health and safety record.
But Morrison warned: "Our clients rely on borrowing in the financial markets to finance their operations. There is a risk that clients will seek to reduce expenditure or extend payment terms in order to manage their cash resources. We engage in regular dialogue with our clients to continually assess this risk and adjust our resources accordingly."
Got a story? Email news@theconstructionindex.co.uk