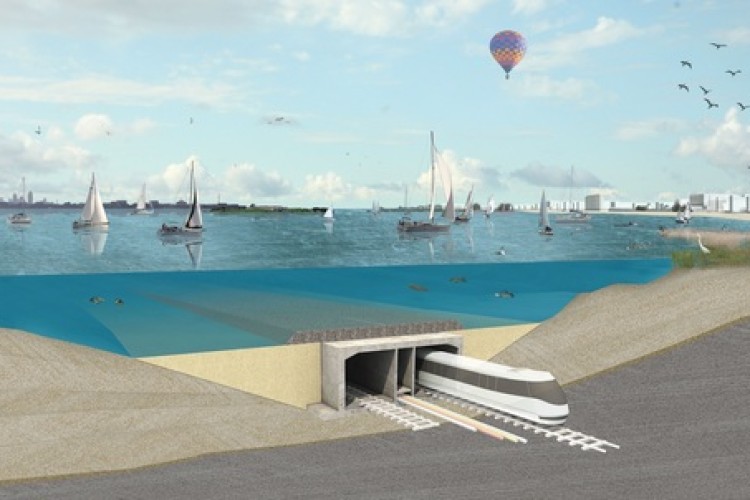 The proposed route includes a 9km tunnel and a station set within a new canal where boats could moor at  what is described as 'the world's first sail-and-ride station'.
The studies have been carried out on behalf of the operating company Werkmaatschappij Almere-Amsterdam (WAA) and examine a route between Amsterdam-South and Almere-South Centre through the IJmeer Lake. The Mott MacDonald and Baca proposal is up against schemes from Movares and Jacobs/APPM/Posad, each of which includes a major bridge in place of a tunnel across the lake.
The railway is planned to support urban growth in eastern Amsterdam and in Almere, where more than 25,000 new homes are planned.
As part of its proposal, the M55 consortium has designed a 20 km long connection from Diemen-Zuid to Almere Centrum, including a 9km tunnel under IJburg and IJmeer. This will include five new stations -  two underground and three above ground - with potential for further stations along the line. One of the underground stations is set within a new canal and will provide facilities for boats to moor alongside to create the world's first sail-and-ride station.


The material excavated from construction of the new tunnel will be used to create a new island north of Pampus and a series of sand dunes and 'shallows' on the coast for recreation and wildlife.   with the M55 line passing through a linear park in the centre of Almere.
The Pampus IJland will include 3,000 homes, each with views over the lake or cove. The island will be formed around a sheltered cove containing a new beach and moorings for yachts and floating homes. The island will be car-free and a personal rapid transit system has been proposed to provide high speed travel between the island and the urban centre in Pampus.
Mott MacDonald project manager Martijn Donders said: "From our initial innovative alternative outline design, to our now completed feasibility study, we have developed a strong business case for the new rail link. The project is attracting intense public and political interest and our proposal is extremely strong on crucial issues such as environmental impact, ease of use and integration into the urban landscape, and the economic benefit. Our solution also provides for phased implementation."
Baca Architects project architect Robert Barker said: "We have developed integrated landscape, architecture and public realm proposals along various sensitive waterside settings and tunnel portals. In addition we have developed spatial concepts for new homes in Almere Pampus and Pampus Island, and provided the designs for the sail and ride station."
Got a story? Email news@theconstructionindex.co.uk