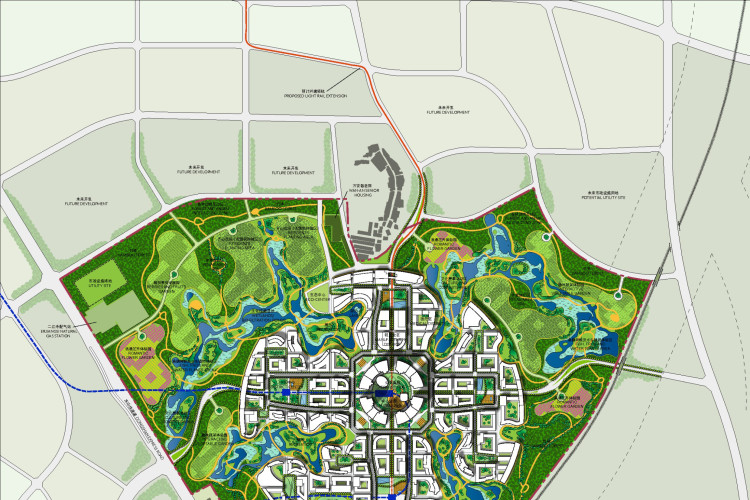 The eco-park will integrate waste water treatment, solid waste treatment and power generation.
Chengdu Tianfu District Great City is designed to be a self-sustaining, environmentally sensitive 1.3km2 development. Construction is set to begin this autumn.
It is being developed by Beijing Vantone Real Estate and is envisioned as a prototype to be replicated in other locations throughout the country. The development is intended to respond to the problem of overburdened infrastructure in many of China's major urban centres without contributing to the high energy consumption and carbon emissions associated with suburban sprawl.
When completed in about eight years, Great City will be home to about 30,000 families totalling 80,000 people, many of whom will also have opportunities to work within the development. The distance from any location in the city to any other location will be walkable within about 15 minutes in a move designed to eliminate the need for most cars. The city will also be connected to Chengdu and surrounding areas via mass transit to be accessed at a regional transit hub at the Great City centre
The project has been designed to use 48% less energy and 58% less water than a conventional development of similar population. It will also produce 89% less landfill waste and generate 60% less carbon dioxide.

"Great City resolves the relationship between high-density urban living and sustainable development," said Adrian Smith, who directed the design process along with AS+GG partner Gordon Gill. "This project will provide all basic services to its residents through a sustainable infrastructure that supports education, commerce, culture and an improved quality of life. It demonstrates how China can reduce its ecological footprint while creating economic conditions that are affordable for the majority of citizens and address contemporary social concerns."
The project has been designed to conserve existing farmland, with more than 60%  of the 800-acre site area preserved for agriculture and open space. The 320-acre urban area will be surrounded by a 480-acre buffer landscape. Within the city, 15%  of the land will be devoted to parks and landscaped space, while 60% will be for construction. The remaining 25% will be devoted to infrastructure, roads and pedestrian streets.
"The design is attempting to address some of the most pressing urban issues of our time, including the need for sustainable, dense urban living at a cost people can afford," says Gill. "Accordingly, we've designed this project as a dense vertical city that acknowledges and in fact embraces the surrounding landscape - a city whose residents will live in harmony with nature rather than in opposition to it. Great City will demonstrate that high-density living doesn't have to be polluted and alienated from nature. Everything within the built environment of Great City is considered to enhance the quality of life of its residents. Quite simply, it offers a great place to live, work and raise a family."
"We are extremely pleased with Adrian Smith + Gordon Gill Architecture's master plan for Great City because of the firm's world-class perspective and very high-level design experience," said Vantone Chairman Feng Lun. "As we move forward with this exciting project, we are happy to face challenges together with the AS+GG team."
 AS+GG's master plan includes architectural design guidelines for massing and placement of buildings. Several international design firms, including AS+GG, will begin design work on the architecture later this year.
Got a story? Email news@theconstructionindex.co.uk