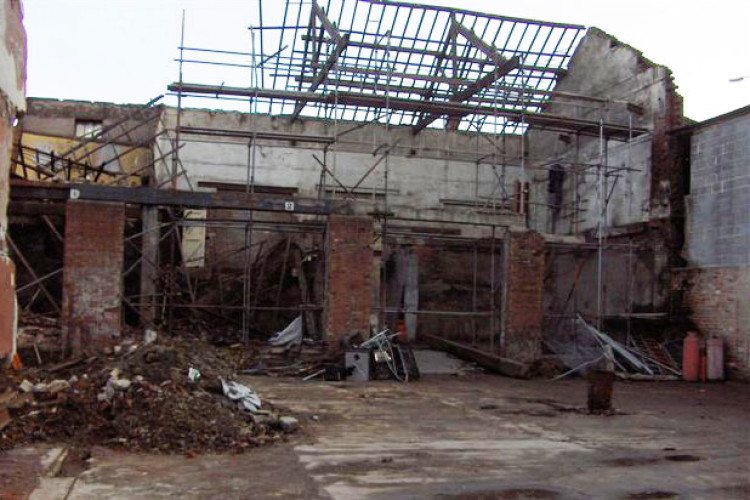 Developer Ghulam Rasul had already been served with a prohibition notice ordering him to stop all demolition work at the site because the building was unstable. But he ignored this and carried on regardless.
The Health & Safety Executive (HSE) brought the prosecution after investigating the incident at Steetley Chambers, former industrial premises, in Sheffield, on 4 February last year.
Sheffield Magistrates heard that the HSE found Mr Rasul restarted demolition work on the site in late 2010, breaching the prohibition notice served on him in April 2008 relating to safety concerns. By doing so, the building was weakened further, increasing its instability and the potential for a collapse, and putting anyone near it at risk of injury.
On 4 February the gable end of the two-storey building did collapse. Around ten tonnes of brick and rubble crashed through the roof of a fishing tackle shop next door and narrowly missed the shopworkers.
South Yorkshire Police closed Effingham Road as they were concerned the remainder of the building would collapse across the road and pavement. A team from Sheffield City Council's dangerous structures unit then arranged for the structure to be safely demolished.


Ghulam Rasul, of Balfour Road, Sheffield, pleaded guilty to an offence under the Construction (Design and Management) Regulations 2007 and to breaching a Prohibition Notice. He was fined a total of £6,000 and ordered to pay £2,418 in costs.
HSE inspector Dave Bradley said he was astonished that there had not been fatal or serious casualties. Speaking after the hearing, he said: "This was an extremely serious incident with the potential to kill several people in the shop as well as pedestrians and people in cars on Effingham Road at the time. The fact that no one was injured was pure good fortune.
"It was an entirely avoidable incident. Had Mr Rasul employed a competent engineer, temporary supports could have been designed and installed to prevent a premature collapse of the structure. He had been warned of the dangers, advised on what to do and yet he recklessly ignored this advice and by doing so put the lives of many people at risk.
"Demolition is a high-risk activity that needs to be carefully planned - from start to finish - to ensure it doesn't result in the uncontrolled collapse of a building or parts of it. The controls needed are well known in the industry and the costs involved are not prohibitively expensive when balanced against the risks."
Got a story? Email news@theconstructionindex.co.uk