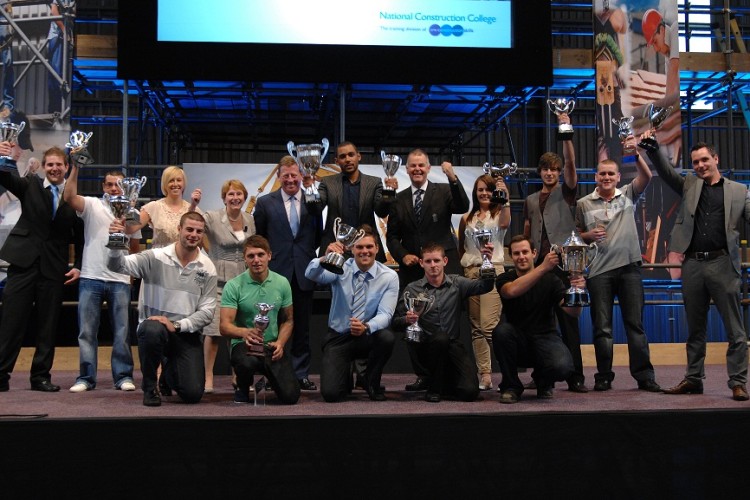 The prestigious ceremony, which is in its 12th year, was attended by almost 700 industry representatives, local employers and friends and family. It was the final of four ceremonies held across the UK to recognise and reward the hard work, expert skill and determination of the College's talented apprentices.  
The NCC, which is the training division of CITB-ConstructionSkills, boasts a framework completion rate of 75%, which is 5% above the national average, with 69% of these learners completing their programme on time (12% above the national average.)
Judy Lowe, Deputy Chairman of CITB-ConstructionSkills and Andy Walder, Director of the National Construction College opened the ceremony with guest speaker, professional county and England cricketer, Geoff Miller, captivating the audience with tales of his rise to success, through his career as an outstanding sportsman. 
Construction Operative apprentice Ashlee Barnes, who lives in London and works for VolkerFitzpatrick Ltd, was awarded the top accolade of Apprentice of the Year, in addition to the Construction Operative and Communal Life awards.
In addition to recognising the apprentices' progress and rewarding them for their trade specific expert skill, the awards also aim to celebrate those skills that are essential to site life and success. Fellow London apprentice Chris Vrettos, who works for Alexandra Tool Hire Ltd, achieved the Essential Skills award, with Scottish apprentice Scott Irvine of Volvo Construction Equipment UK Ltd taking home the Sports and Social Life award.    
Andy Walder commented: "As Europe's largest construction training provider we work closely with employers to meet their training needs, and pride ourselves on delivering specialist training that will give businesses a competitive edge to help them succeed and grow. 

"Training and providing highly skilled apprentices, who are the life blood of our industry, forms a key part of this, so we are delighted to gather here today to celebrate their achievements. Their apprenticeship, taught by highly skilled instructors in top-class facilities, will be the best introduction that they could wish for into our exciting sector. We wish them well and are confident they will go on to become the future success stories of our industry."
Chris Barrett, Head of Vocational Services at the National Construction College East, commented: "Our apprentices are testament to the fact that there are still good opportunities out there for young recruits and we call on local businesses to continue to support this vital pool of talent. Apprentices not only ensure that a loyal workforce is developed with the skills that your business needs, but they also help ensure that the industry avoids skills shortages in the future by securing talent now."
Apprentice of the Year winner, Ashlee Barnes, said: "It feels amazing to have won. I'm in total shock to receive this award. Of course, I want to say a massive thank you to all my instructors who have given me all the knowledge I've gained in my 20 plus weeks at the College…It doesn't get better than this does it?"
With a long-standing reputation and experienced staff, the NCC is well placed to deliver the skills training needs of the Construction and Built Environment sector.
The NCC delivers quality and affordable courses at eight sites and additional training venues for up to 25,000 learners each year. The College works with employers to provide both bespoke and specialist training, in addition to producing a wide selection of first class learning materials to complement training courses.   
Got a story? Email news@theconstructionindex.co.uk