Through 2012, Nationwide is adding new PowerTower NanoSP and NanoSP+ machines to boost its low level access fleet to more than 1250.
The NanoSP provides access to working heights of 4.5m from a footprint of just 750mm by 1200mm.
Like the NanoSP, the NanoSP+ offers access to heights of 4.5m from a narrow base, but also has a larger 1m cantilever deck, enabling a 1.5m outreach.
Suitable for finished flooring, both models are joystick controlled and offer a zero turning radius.
Weighing 478kg and 540kg respectively, the NanoSP and NanoSP+ can be delivered by standard 500kg tail lift vehicles.
Nationwide Platforms sales and marketing director Richard Miller said: "Since the emergence of low level access platforms in around 2005 we have seen a significant and growing demand from our customer base. In particular we've seen this from clients in the retail and facilities management sectors who are looking for safe, efficient and cost-effective alternatives to more traditional means of access.
"By investing in these new units we'll be able to provide low level access from our depot network right across the country and meet the present and future needs of customers. Overall, the additions to our fleet will mean we can continue to ensure that, regardless of the challenges faced by our clients, we will continue to provide them with right machine at the right time, anywhere across the UK."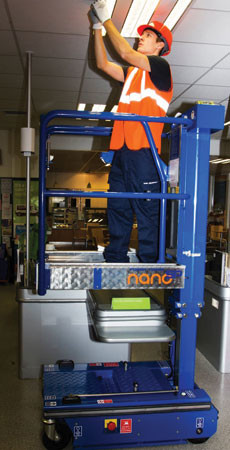 Got a story? Email news@theconstructionindex.co.uk