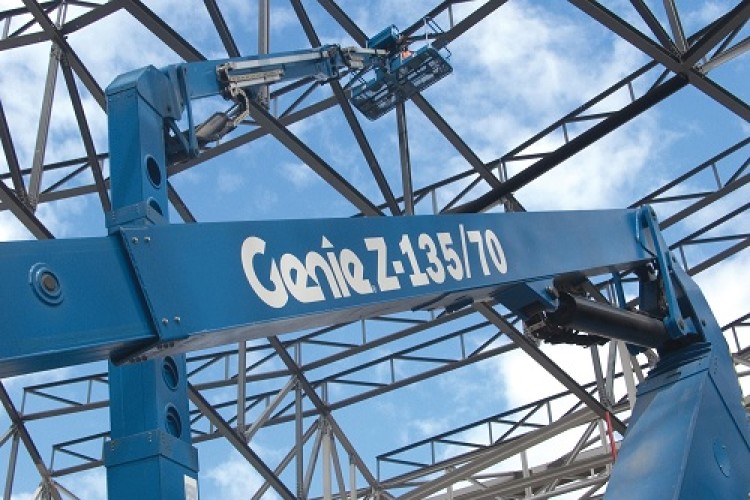 Heathrow Airport's new Terminal 2 is currently providing a testing challenge for a huge fleet of Nationwide powered access platforms.
Work on the terminal, which has an estimated value of £1bn to £1.5bn, began in 2008, with the first phase of the project due to open next year.
For hire firm Nationwide, it's an opportunity to showcase the capabilities of a wide range of mobile elevating work platforms (MEWPs) – but in a very demanding environment.
Terminal 2 is being built by a 2,500-strong construction workforce, working 24-hour days.
Steven Morgan, capital director of BAA, says: "We are constructing a significant new building in the middle of one of the world's busiest airports, and ensuring the operating airport is not affected is an absolute priority."
Part of the project is a £750m scheme to build a new satellite pier (T2B), which is being delivered by Balfour Beatty.
The work is being facilitated by 150 MEWPs which Nationwide is hiring to Balfour Beatty and its sub-contractors. The access platforms range in height capability from 5m up to 45m.
Nationwide director Simon Beckett says the hirer had tried to create "a complete working-at-height solution" for Balfour Beatty, with a mix of safety, security, and service innovations.
He explains: "The recently launched SkySiren anti-entrapment solution – designed to protect operators from being crushed against the controls or basket – will be fitted to the majority of on-site boom lifts.
"PIN activated Key Pads designed to prevent unauthorised users gaining access to the equipment will also be fitted where required.

"Nationwide will also provide an on-site facility, where access equipment will be ready for immediate use, managed by an on-site team. We will also run IPAF-approved training and Toolbox Talks dealing with any site specific working at height issues."
Working with Nationwide at Heathrow is access platform manufacturer Genie, who will also provide a range of support services. Mickee McDonagh is Genie's technical services engineer for all the manufacturer's access equipment on the Terminal 2 project.
"I am the one and only contact for contractors with Genie equipment at Heathrow and this saves them time," he explains.
"People know who to call for urgent advice or fast response. We've often worked together on these kinds of projects in the past, such as the London Olympics, where the magnitude of the work, the contracts, security and deadlines means no-one can settle for basic mechanical knowledge and customers need manufacturer-trained technical support who pre empt problems as well as troubleshoot."
The design of the building, with intricate internal structures, has created many work at height challenges. Perhaps the trickiest part to date is the structural steel.
Contractor Steelcraft Erection Services is operating a fleet of 12 Genie Z-135 articulating booms to attach steel girders once they have been lowered into position by crane.
Martin Fallowfield, site supervisor for Steelcraft, says: "The nature of the work means equipment must demonstrate great reliability as interim deadlines are non-negotiable and the work is tough going."
The Z-booms are the largest of the Genie engine-powered articulating booms, with features including telescoping jib and 360-degree continuous turntable rotation. The Z-135 provides 'up and over positioning' of 23.01m, combined with 43.2m work height, and 21.3m of outreach – providing Steelcraft with the capability to navigate the huge and complex metal structure, and complete the internal fixings and attach cladding.
Besides erecting the steel, other work the Nationwide MEWPs are being used for includes: putting up safety netting; installing internal sprinkler systems and electrical communication lines, using Genie GS-1930 electric scissors; and mounting fire protection and external cladding, using rough terrain scissors.
Phase 1 of Terminal 2 is expected to open between Autumn 2013 and Spring 2014 followed by a second phase to replace Terminal 1, which will open in 2019.
Got a story? Email news@theconstructionindex.co.uk