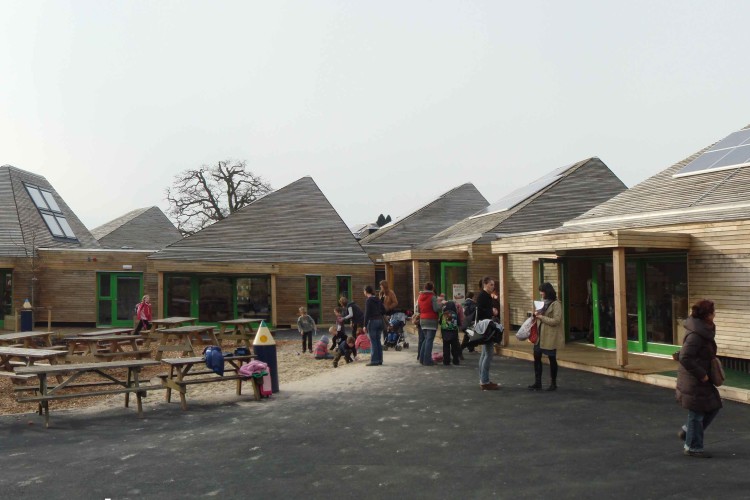 Designed by White Design architects, the new Dartington Primary School blends into the rural landscape through the use of natural, almost exclusively timber-based building products. It also benefits from the high thermal performance, sustainable credentials and summertime overheating control delivered by NBT's insulation system and other sustainable materials, whilst simultaneously maintaining the functionality required of a school building.
Sited on a former agricultural field and arranged in four clusters of single storey classrooms, the bright and open building was designed to reflect the aspirations of pupils, teachers and the local community, promoting sustainability and outdoor learning. Each energy efficient classroom is directly connected with the landscape via its own landscaped garden, a natural learning resource, which extends the teaching space into the environment.
The classroom units have a prefabricated timber panel structure with almost no steel or concrete used within the building envelope. NBT's Pavaclad woodfibre insulation system is used to insulate the external walls. This comprises NBT's Pavatherm Plus woodfibre insulation installed in a continuous layer over the timber panels, which are then finished externally with coppiced sweet chestnut cladding.
NBT's Pavaclad system formsa thermal shell, which reduces thermal bridging and has achieved a U-value of 0.19W/m2K for the external walls. The system also contributes to the building's achievement of an airtightness level of  less than 4m3/hr/m2@50Pa.

NBT's woodfibre insulation meets with the building's responsible sourcing, low toxicity and high recycled content material requirements. It locks up more carbon than is used throughout its manufacture and delivery to site, and, due to its 95% plus waste wood composition, is wholly recyclable. In addition, the school's timber floor, wall and roof panels are bonded together with organic adhesive, meaning that the building envelope as a whole can be recycled at the end of its life, providing enough biomass fuel to heat 130 family homes for one year.
NBT's woodfibre insulation systems are fully breathable, thereby maintaining a healthy living environment, with reduced risk of mould formation and the associated health risks to occupants, as well as providing extra protection to the building fabric. The systems also deliver the high thermal mass required to prevent summertime overheating.
The school building also employs various renewable technologies, including rainwater harvesting for the flushing of toilets and the use of air source heat pumps to power underfloor heating.
Dartington Primary School has been named Forum for the Built Environment (FBE) Building of the Year 2011 by the Devon and Cornwall FBE Branch and has won the Best Education Development category in the Local Authority Building Control (LABC) Building Excellence Awards for the southwest region, as well as gaining a commendation in the 2011 Civic Trust Awards. The awards recognise the building's high standard of design, construction and workmanship.
Got a story? Email news@theconstructionindex.co.uk