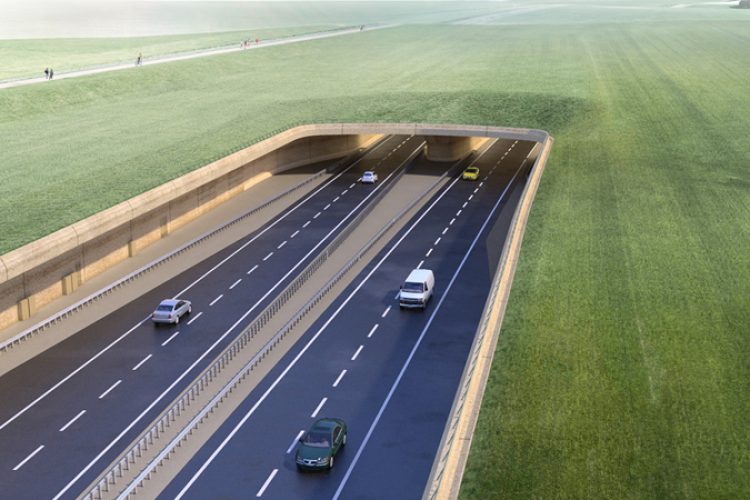 Save Stonehenge World Heritage Site, a Sussex-based campaign group that has been set up as a limited company, has today sent the government a pre-application protocol letter.
This is the precursor to it filing a claim for judicial review, which needs to be made by 25th August – within six weeks of transport secretary Mark Harper approving the develop consent order application.
This weekend marks the second anniversary of the quashing of the original development consent by the High Court after an application for judicial review was made by the same campaign group in 2021. At that time, the government was criticised for not having properly assessed alternatives to National Highways' proposals.
Transport Action Network director Chris Todd is one of the three shareholders in Save Stonehenge World Heritage Site Ltd (SSWHS). He said: "The same scheme that was thrown out in 2021. We believe there are strong grounds why this approval should also be struck down. We will do everything within our power to safeguard this most iconic of sites for future generations."
Solicitor Rowan Smith, from London law firm Leigh Day, said: "There is an unfortunate sense of déjà vu. It appears that, yet again, the government has ignored warnings that this road scheme will put at risk the world heritage status of Stonehenge. Despite calls by the World Heritage Committee for the decision to be delayed until it had met, the secretary of state went ahead and reinstated development consent, without holding another public examination. It will be argued that this unfairness, combined with a failure to properly assess the scheme's climate change impact, rendered the secretary of state's decision unlawful for a second time. If the government, following correspondence, refuses to accept that, then our client intends to launch another claim for judicial review."

SSWHS expects to receive the government's response within two weeks. It will then have a further two weeks to file its claim.
National Highways last year named the MORE joint venture, comprising FCC Construcción (42.5%), WeBuild (42.5%) and BeMo Tunnelling (15%), as its preferred contractor for the A303 Amesbury to Berwick Down scheme, which includes the tunnel, taking the road away from the stones.
Costain and Mott MacDonald collectively have a £60m contract to act as National Highway's delivery assurance consultant.
Mace Consult is quantity surveyor for the controversial project.
Got a story? Email news@theconstructionindex.co.uk