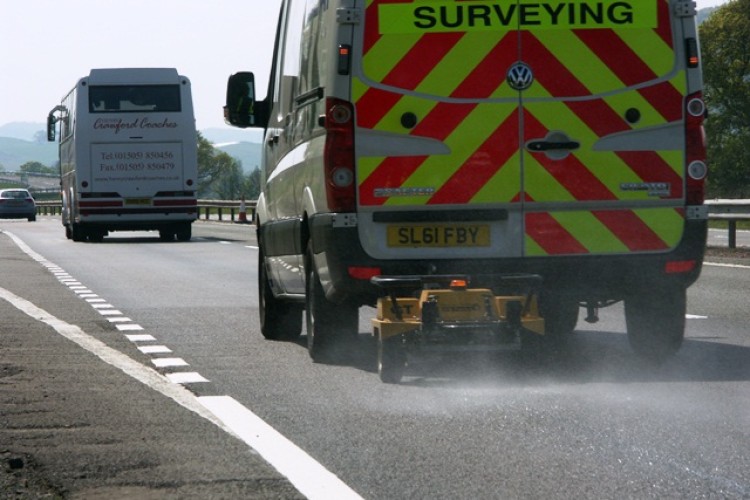 A short stretch of the A90 dual carriageway between Perth and Dundee has been resurfaced by Breedon Aggregates with the new material.  It will now being monitored over the coming months against a number of key performance criteria, including skid resistance. According to Breedon, early indications are 'very encouraging'.
This stretch of road is one of the busiest in Scotland, carrying around 35,000 vehicles a day.
Unlike previous attempts at using rubber in asphalt, which usually involved trying to melt the rubber completely before mixing it with stone and bitumen, Breedon Aggregates has used new technology from Danish company Genan which enables it to incorporate rubber particles directly into the binding agent.  This is achieved at lower temperatures, with lower levels of emissions, bringing environmental benefits.
"This could transform our approach to road surfacing in the UK," claimed Alan Mackenzie, chief executive of Breedon Aggregates Scotland.  "Our industry has been trying for years to successfully incorporate recycled rubber into asphalt, without much success.  Thanks to this new technology, which we are partnering with Genan to promote in the UK, we can help change that."
Breedon Aggregates is marketing the new material as Breedon Polymer R+.

Since 2006, EU rules have banned the disposal of tyres to landfill, leaving large quantities of shredded rubber to find alternative uses in various forms of recycling. According to the European Tyre & Rubber Manufacturers Association, nearly 480,000 tonnes of used tyres were dumped in the UK in 2009.  Breedon cites life cycle assessment studies that show for every tonne of scrap tyres used for rubber modification of bitumen and asphalt, 1.1 tonnes of CO2 emissions are saved compared with incineration of the tyres .
"We're bringing to market an asphalt which is more economical and environmentally friendly than any comparable product currently available," added Mr Mackenzie. 
 "We'll be drawing on a readily-available recycled raw material, reducing the proportion of expensive stone and bitumen in the mix and cutting the amount of gases and fumes produced, so it's an all-round win for us and for our customers."
Transport Scotland (TS), the highway authority, issued this statement: "We are pleased that industry has identified this opportunity and developed an alternative surfacing material for use on the trunk road network.  This adopts a sustainable approach in making the best use of resources available, by re-using an abundant waste material and thereby reducing the use of oil-based bitumen products.  TS will continue to work collaboratively with the industry under the auspices of the TS Pavement Forum and we look forward to the continued success of this initial trial."
Got a story? Email news@theconstructionindex.co.uk