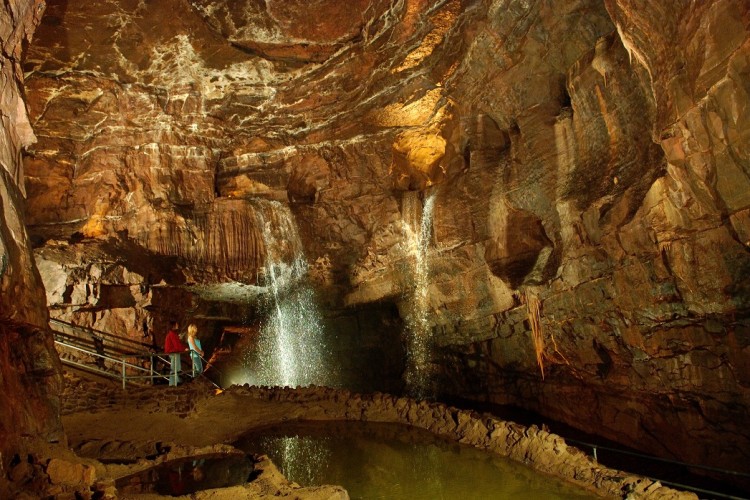 The caves and the stalactites and stalagmites within them were naturally formed, beginning around 315 million years ago, when water entering cracks and fissures in the limestone began to dissolve the rock, creating a cave system.
The paths leading up to and through the caves were man made in much more recent times!
The National Showcaves Centre can receive over 40,000 visitors annually and is an ideal wet weather attraction, so it is necessary for any paving used to be slip-resistant and durable.

The system used by the Centre for their paths is Ronacrete's Ronadeck Resin Bonded Surfacing which is a hardwearing surfacing system composed of a resin base and natural aggregates that offers excellent slip-resistance and can withstand the heavy footfall year after year.
Ronadeck Resin Bonded Surfacing is normally laid on concrete or asphalt and less frequently on steel or timber decks.  In this case the base was asphalt and because the asphalt's surface was open textured, Ronadeck Resin Bonded Scratch Coat was applied first, to produce a smooth substrate for the surfacing. The two component resin was then mixed with a drill and paddle mixer and applied by roller to the asphalt. The special aggregate was immediately cast into the resin and left to cure for four hours. After excess loose aggregate had been swept off, the pavement was ready for immediate use.  The client chose to use silver grey Guyanan Bauxite because the slip and wear resistance is unsurpassed and because the colour blended with its surroundings.   
Got a story? Email news@theconstructionindex.co.uk