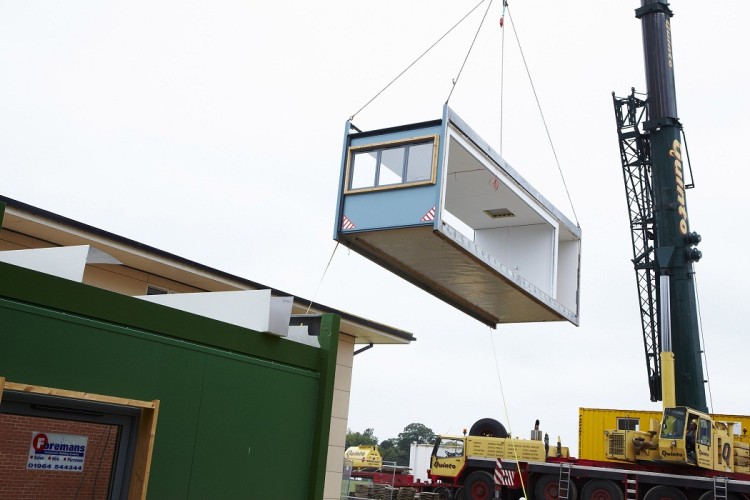 The scheme has been constructed using a highly sustainable recycled modular building from Foremans Relocatable Building Systems.
Designed by architects NPS Group, the purpose-designed facility was craned into position in just one day during the school holidays to minimise disruption to staff and students.  The main contractor is Farrans (Construction) Ltd.
The single storey building will provide five seminar rooms for students studying a range of social science subjects, and sixth form facilities, including a break-out area, toilets and administration office.
The project marks the start of an exciting phase in the school's development.  In line with Government policy to increase the number of academies across the UK, Wymondham High School will take on Academy status from Autumn 2011. 
The additional teaching accommodation is needed as the school caters for over 1,600 pupils, with 400 in the sixth form from the start of the new academic year.  By 2025, the Academy's capacity will increase to 2,000 pupils.
Commenting on the project, Victoria Musgrave, Head Teacher at Wymondham High School said, "This project will provide a high quality educational environment which will help to symbolise the start of a new era for the school and contribute to our aim of becoming a centre for academic excellence in the region.  The recycled modular approach from Foremans will give us the very best scheme for our available budget and is sufficiently flexible to meet our specific building requirements."
Wymondham High is a high performing mixed comprehensive school specialising in the arts and sciences.  Its sixth form has been recognised as 'outstanding' by Ofsted and last year, the school achieved its best ever GCSE examination results.


All Foremans' recycled modular buildings are fully refurbished with new windows, wall linings, partitions, mechanical and electrical services, doors, flooring, and cladding, to create high quality accommodation for a wide variety of education applications.
The advantages of recycled and refurbished modular buildings for schools and colleges include:
Programme times reduced by up to 70 per cent
A highly cost-effective alternative to new build               
The buildings can easily be expanded, reconfigured or removed if accommodation requirements change
Off-site working is maximised for safer, quieter and cleaner sites and reduced disruption to teaching
High quality steel-framed modular buildings are built to last and require fewer ground works than traditional site-based construction – further reducing cost, disruption and programme times.
Got a story? Email news@theconstructionindex.co.uk