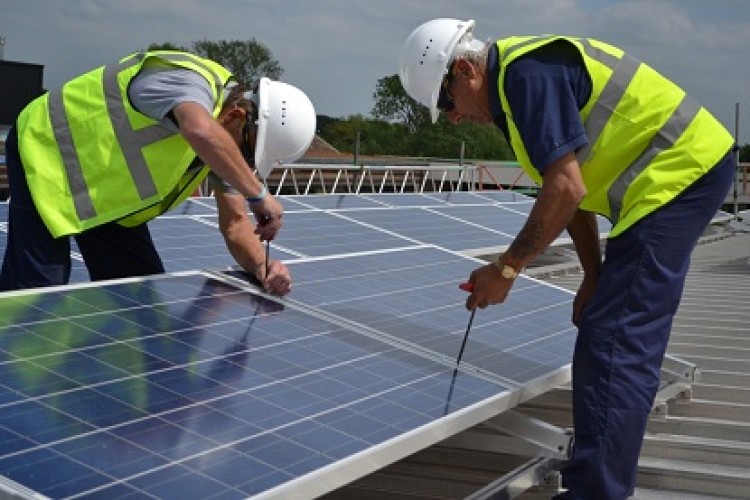 The company has successfully fitted 313 solar panels at Whitecross High School and Specialist Sports College in Three Elms Road. Stepnell originally built the school in 2006 as part of a £15 million Private Finance Initiative (PFI) contract with Herefordshire Council, which also sees the company managing the facilities under a 25-year agreement.
The panels, which absorb solar energy and convert it to electricity, have been fitted to the roof of the main building. It is estimated that they will produce an energy yield of around 60,300 kWh per year. It is one of the first projects to be undertaken by Stepnell since the company achieved accreditation to the Microgeneration Certification Scheme, a nationally-renowned quality assurance scheme which allows Stepnell to install accredited PV systems.
Whitecross High School and Specialist Sports College already features a wide range of sustainable technology designed to improve energy efficiency which were incorporated by Stepnell into its original design. These include sophisticated heat recovery systems and 'night purging', a technique which uses cooler night air to ventilate the building and reduce the need for high-energy demanding cooling systems.

"The PV panels will help Whitecross High School and Specialist Sports College to achieve even greater levels of energy efficiency and significant long-term savings on energy bills," explains Mark Wakeford, Stepnell managing director. "We've built up an excellent relationship with both students and staff at the school over the past eight years. We hope they are looking forward to benefiting from the latest addition to their school campus."
"We're really thrilled to have this new technology installed," says Denise Strutt, Whitecross High School and Specialist Sports College headteacher."Not only will it reduce our energy bills, it will also provide opportunities for our students to learn about alternative technologies." 
Got a story? Email news@theconstructionindex.co.uk