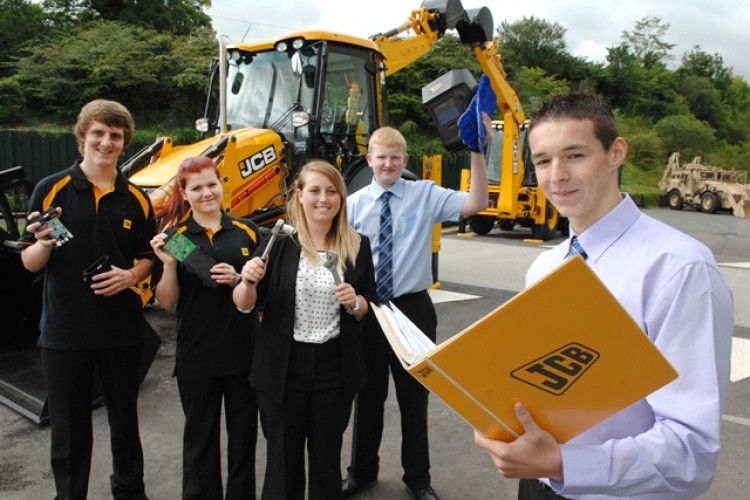 This week sees a total of 55 higher, advanced and craft apprentices join the business, including 15 who are the first intake from the JCB Academy, which was set up in 2010 to create engineers and business leaders of the future.
Next week 30 graduates covering manufacturing, powertrain, business and purchasing disciplines start work. These are in addition to 18 engineering undergraduates, sponsored by JCB, who joined the company last week for their sandwich year in industry.
The apprentices, graduates and undergraduates have been recruited as part of a £3.5m investment in a 'Young Talent' programme.
JCB chairman Sir Anthony Bamford said: "Investing in new talent is vital for the future success of any business. I'm particularly pleased to welcome JCB's first recruits from the JCB Academy where they have benefited from working on real-life engineering projects to prepare them for the world of work."
Graduate training programmes will focus on developing expertise in powertrains, manufacturing, engineering, business and finance. The apprenticeship programme includes a new Higher Apprenticeship scheme, which offers the opportunity for 14 youngsters to study to degree level while working in design, technical service support and manufacturing roles. The craft and advanced apprenticeships will develop skills in mechanical and electrical maintenance, tool making and welding.

JCB Academy Principal Jim Wade said: "The JCB Academy was established to develop employability skills amongst young people and to enable them to achieve great academic and technical qualifications. We are really pleased that many of our young people are moving on to apprenticeships with many of the key employers across the region, such as Rolls-Royce, JCB, Nestle, Bentley Motors as well as KMF, WD Tankers and B&B Tractors to name just a few.  These young people are leaving the academy with the core skills they need to have successful and fulfilling careers within the engineering industry."
Holly Broadhurst, 18, Leek, Staffordshire, has joined JCB as a Higher Apprentice from The JCB Academy, where she was head girl, after completing her A Levels. She will work in the design office at JCB Compact Products, Cheadle. She said: "The JCB Academy has prepared me well for the world of work because there was a big focus not just on text book learning but problem solving and projects. I was offered a place at Sheffield Hallam University but chose to become a Higher Apprentice with JCB because it offers the opportunity to study for a foundation degree and later a bachelor's degree while working and earning a salary."
Josh Machin, 16, of Blurton, Stoke-on-Trent, has also joined JCB from The JCB Academy and is an Advanced Apprentice specialising in electrical engineering at JCB's World HQ.
He said: "I originally came to JCB on work experience and thoroughly enjoyed it as the work I was involved in was really interesting.  I then applied for an apprenticeship and I'm delighted get this opportunity to work with the same team who looked after me on work experience."
Got a story? Email news@theconstructionindex.co.uk