The company's ISO-CONNECT Vario SD humidity regulating and airtight foil has been specified by property management firm South Tyneside Homes for its 'Decent Homes' regeneration scheme at Harton Moor estate in South Shields, Tyneside.
Dozens of properties there and throughout the borough of South Tyneside are being modernised to provide a package of energy improvement measures which will enable tenants to reduce their fuel bills and cut carbon emissions.
Throckley–based double glazing manufacturers and installers Warmseal is supplying hundreds of pre-fabricated BFRC energy rated and British standard accredited windows and doors to site before installing with the Vario SD foil to provide rapid and high performance sealing of the frame connecting joints.
ISO-CONNECT Vario SD provides 'intelligent' humidity control and airtight benefits for the home improvement scheme which sees external insulation cladding, new kitchens, bathrooms and electrical wiring, heating systems and roofing also being installed.
The foil comes from a new generation of window sealing products which not only adapt to seasonal variations but also provide an excellent external weather seal that surpasses the current, and proposed, UK Building Regulations for air tightness in domestic and commercial buildings when used as an internal seal. As well as sealing against wind driven rain to hurricane forces.
Designed to last the lifetime of the windows the ISO-CONNECT Vario SD comes in a variety of widths and adhesive variations which features a high quality acrylic adhesive to bond to the window profile.
Product can be supplied either with a pre-applied butyl adhesive to bond to the building substrate, or left plain, and is part of the ISO3 3-level sealing system, which comes with a 10 year guarantee.


More than 5,500 metres ISO-CONNECT Vario SD has been supplied so far to support the new windows and doors installation programme.
Ian Glenister, quality manager for Warmseal, said: "ISO-CONNECT Vario SD is a very good product, which was directly specified for the project to provide a high performance sealing solution.
"It's easy to use and quick to install; and meets all the requirements of the Decent Homes scheme in terms of environmental and energy saving qualities and benefits."
ISO-Chemie is one of Europe's main producers of impregnated foam sealants, specialising in the manufacturer of foam products from polyethylene (EPE), polypropylene (EPP) and polyurethane (PUR) using the latest production techniques.
The company's UK technical and distribution operation is based in the North East of England, supported by a dedicated logistics service to ensure customer orders are completed as quickly and efficiently as possible (usually next-day delivery).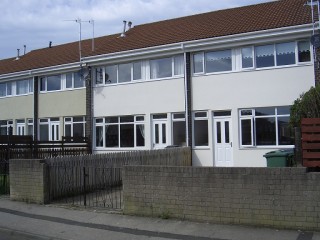 Got a story? Email news@theconstructionindex.co.uk